Frenkie de Jong in search of a clear role at Barcelona
With the youngster shining for the Netherlands, and Busquets continuing to do his thing, Valverde has a puzzle to complete on combining the two talents.
Frenkie de Jong's position at FC Barcelona is under the spotlight. Nobody disputes the quality of the Dutch midfielder, who, at the age of just 22, is expected to be a global figure in the next decade, but in his early time at the Camp Nou he is finding it a challenge to nail down a place in which to shine.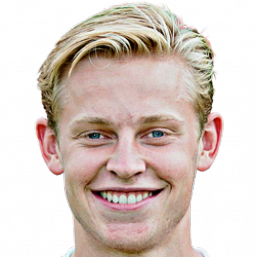 De Jong looking for his Barça song
If proof of this point was required, we need look no further than what has happened during the current international break. De jong was returned to his pivot position in the impressive Dutch victory over Germany in Hamburg, where he led the Oranje from his deep position and driving forward, allowing him to get on the scoresheet himself. At Barça he played in that position for the first game in San Mamés but, with the return of Sergio Busquets to the line-up, shifted to the inside left.
The problem Ernesto Valverde has is that he needs to find a way to play in a way that connects both players, as it is unlikely that Busquets is leaving his role in the short-term. And for him, international duty also felt that taking a bath in self-esteem, as he played out an excellent game in the centre of a Spanish side that picked up three points in Romania. Doubts remain over how their club can blend both of their qualities.
De Boer on De Jong
Ronald de Boer, former Barcelona player and coach of the Ajax youth team knows De Jong well. Speaking with AS he was clear about the situation:
"I saw the last games of Barcelona and Frenkie was playing almost on the wing. I don't believe that's his position; he should play in the centre or as a holding midfielder.
"I don't know what Valverde will do. What I do know is that Frenkie may have to be patient. Busquets is already getting on, although he continues to play with the same quality as always on the pitch."
De Jong's numbers in the Germany-Netherlands match in the holding role were stratospheric, far removed from those he first documented in his performances for Barcelona. Against the Germans, De Jong played 95 minutes, scored a goal and starred in 81 interventions in the game. He finished with a pass success rate of 93% (66 out of 71), succeeded in two dribbles from the three attempted, twice intercepted, won three of seven duels contested and found his teammate in seven of the eight long passes played. An impeccable performance.
Now it's time for him to face up to the reality of the blaugrana, and Frank de Boer knows this only too well.
"The philosophy of Barcelona is not new to him. What happens is that the other players have to complete their understanding of his game.
"Frenkie is a different type of player to Busquets. His teammates have to adapt to him and Frenkie to them. What is clear is that he has a talent that has not been seen in a long time.
"That is why I am convinced he will end up being a success there."