Barcelona hold Dortmund to a goalless draw in Champions League opener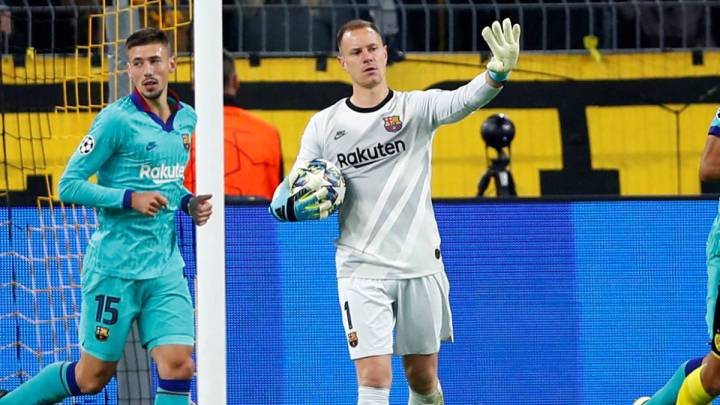 Borussia Dortmund vs Barcelona: as it happened!
That's the last action of the game. Barcelona held 0-0 in their first Champions League game of the season. Dortmund gave as good as they got and had a chance to win it through a penalty but Reus' shot was saved by Ter Stegen. Draw probably a fair result in the end between two attacking sides.
Ball into the back post and Messi has a chance to win it! He takes it down, has a second to think, and drives it at a defender. Lots of bodies in front of him in fairness. Never easy. Blocked.
Dortmund win it back but Guerreiro loses it and Barcelona have another chance.
Can someone find a winner?
Sancho takes. It's delivered into the near post but it's cleared and Delaney handles the ball as it bounces up to him.
Another Dortmund attack. Guerreiro with the cross and he wins a corner.
Bruun Larsen replaces Alcacer.
Two exhausted team. Achraf pulls Semedo down and stays on the ground.
Barcelona on top now too but no real chances to speak of.
Barcelona with a nice spell of possession and Dortmund fans not happy. They're whistling to get the ball back.
More chances. Ter Stegen with another and another save. Reus denied a number of times.
Messi takes off but Dortmund swallow him up.
Brandt just absolutely rattles the crossbar. That was an incredible strike.
Another chance and Reus strikes over. Another ball down the right and it's a nice ball pulled back. They can't convert though.
Alcacer tries to flick the ball to an on-running teammate but Pique handles it. No second yellow but he might be lucky.
Cross in from the right. Alcacer gets a flick but it goes high and over the bar.
Ter Stegen completely taken out of it and Barcelona win a free. Game is opening up now.
Messi finds Suarez but he loses it very softly and Dortmund continue their good start to the half.
Reus with another shot. Blocked this time and Dortmund have a corner.
Another corner. Messi gets a touch on it to keep it away from Achraf and it's a throw in the end for Barcelona.
And now Busquets goes off for Rakitic.
PENALTY! Sancho goes down. He really bought that one and Semedo lunged in. Well done by Sancho. Semedo booked for his trouble.
Dortmund have started this half much better than Barcelona.
Guerreiro to take. It's perfect but Hummels is offside and he missed anyway. Really well done by Pique as he stepped out at the right time.
Arthur tosses Hummels to the ground. Free for Dortmund in another dangerous position but this one isn't as close or central.
Hazard with the cross and Alcacer sniffing around. He can't reach it but nearly, maybe, put Ter Stegen off. The German shows nerves of steel and grabs it though.
Free is sent straight into the wall.
Pique with a foul on Achraf. The Real Madrid loanee gets Dortmund a free in a really dangerous position.
Suarez cuts down the left and from a really right angle, he shoots. Saved by Burki with a trailing hand. He round Akanji too easily that time.
Hazard booked for pulling Sergi Roberto to the ground as they both battle for the ball.
Sergi Roberto was also on the field having just came on earlier as he gets warmed too.
Messi makes his way out onto the field and he is warming up. Might just be loosening out his legs but it might mean he is ready to come on!
HALF-TIME! 0-0 but an entertaining 45 minutes.
Sent in low and Busquets can't wrap his foot around it. Cleared and then sent over.
Last chance now for Barcelona as they line up a free from the left of the penalty area. Arthur to take. The heavies wait inside.
Another corner and it's the same one as before as Griezmann is the one to glance on at the front post this time.
Suarez tries to tound Akanji but he slides and concedes the corner.
That swtich for Fati onto the left has really helped him.
Three minutes of added time.
Free clipped into the box. Bobbles around for a second or two before Dortmund clear their lines.
Ansu Fati takes off down the left now and het gets taken out of it and Hummels comes in over the top of him with a kick in the head. Completely accidental though.
Barcelona try Griezmann down the right and he controls the ball with some magnificent precision. The ball just scutters away from him though.
Alba out for Sergi Roberto. He won't play left-back so it looks like Semedo will go to the left.
Another excellent counter from Dortmund. Sancho gets the shot away as Reus plays to Alcacer and he plays it back to the winger. He drives over.
Ansu Fati out on the left now as Valverde tries to get him into the game.
Cross into the box and it's headed up into the air. Burki comes out and steamrolls his own player. Alcacer gets the brunt of it.
He looks fine and come back on. Actually, he doesn't look fine but he is back on the field.
Alba grabbing his knee. Maybe he twisted it. He is limping too.
Alba down injured now as he grabs his knee. He needs medical help. Injury comes from a cross as he lies straight down after it. Might be muscular but no real sign yet as to how serious it is.
Griezmann looks for Arthur, who finds himself very far forward. Dortmund win it back but can only clear to Barcelona.
Achraf gets it on the right as they work it all the way across the field. He shoots but that's tame and dribbles wide.
Alba sends a cross into the box. It's low and Hummels slides to clear. Here's another counter as Sancho squares up Semedo.
Reus with the free and Hummels has the chance to glance one towards goal at the near post. Heads it over though as he gets too much on it.
Semedo on Sancho. He clips his ankle and the Englishman is writhing in pain. Didn't look as bad on replay.
Reus starts an attack and nearly finishes but Ter Stegen does really well to close him down, make himself big and save with his leg.
Game swings back in Dortmund's direction but it's so precarious that even they look nervous on the ball.
Semedo looks ahead and sees Fati making a move. Cut out by Dortmund but that has been a lively area of the field for Barcelona to start. Some promising attacks originating from the right-hand side.
Sancho been stymied so far.
Griezmann and Suarez link well and Witsel is forced to get back, get his body in front of Griezmann and concede the corner. Another one from the same corner that Pique had that chance earlier.
Offside on another Dortmund counter. That looked really dangerous but Reus had drifted offside before drifting back onside.
Griezmann with a lovely cross into the box. Suarez is waiting to head it home but it's headed out by Hummels for a throw.
Semedo with a deep cross. Dortmund win it back and counter. Arthur gets a touch on his pass forward and Barcelona have a chance to counter.
Delaney dives in on Busquets in search of the ball. All he can find is the Barcelona midfielder's ankle though. He's late and accepts the yellow.
Barcelona have taken control here. More like they wrestled control off Dortmund.
Corner to the front post and Pique glances it towards goal. But it fizzes just wide.
It was deflected in the end. Corner for Barcelona.
Lenglet to Arthur, who has had a good start here. De Jong playing on the right of the midfield three on the ball now too. Griezmann strikes after recieving the ball from Suarez. He shoots wide.
Dodgy pass across midfield and Suarez wins it back. Barcelona move forward and Arthur sends it across to Fati.
Dortmund keeping the ball and looking dangerous.
Lovely cross into the box. Alcacer can't take it down in time. Dortmund look very impressive.
Griezmann threads one through to Suarez and he strikes first time. Blocked but Barça keep it and attack again.
Dortmund bossing possession so far as Suarez chases shadows in attack.
Sancho inside the box and he gets body-checked by Semedo. No free as Semedo just held his ground. Ball crossed into the box but Alcacer can't reach it.
Ansu Fati cuts in from the right and he passes inside. Cut out and Dortmund attack. Really good start to this one. Dortmund counter and Barcelona win it back. Neither team taking a backwards step so far.
Thorgan Hazard wins the ball high up the field and tries to poke one towards Alcacer. Barcelona recover though.
We are underway at the Westfalenstadion.
There's that music again!
As we said, Messi starts on the bench. He could be good for half an hour after completing a couple of training sessions in a row this week. Let's see if they need him.
Ansu Fati has been stealing all the headlines but Jadon Sancho is just sitting, waiting for his chance to burn someone. He's 19, which seems ancient compared to Fati's age, but Barcelona will have their hands filled with him.
Ernesto Valverde has been criticised for being to conservative at time but he opts for an attacking midfield with Arthur, Busquets and De Jong.
This very much looks like a typo but it's not. 18 games. Suárez has a chance to break that hoodoo tonight.
Alcacer gets a start against his former club. Meanwhile, there's a strong Real Madrid connection in the Dortmund side. Eden Hazard's brother starts and so down on-loan defender, Achraf Hakimi.
Borussia Dortmund XI: Burki, Hakimi, Hummels, Akanji, Guerreiro, Delaney, Witsel, Reus, Hazard, Sancho, Alcacer.
Peter Ofori-Quaye was the youngest player to ever score in the Champions League when he scored for Olympiakos against Rosenborg during a 5-1 win for the Norweigan side back in 1997.
Ansu Fati's incredible rise continues as he starts in the Champions League for the first time! 16, remember, he's 16.
Barcelona XI: Ter Stegen, Semedo, Piqué, Lenglet, Alba, Busquets, Arthur, De Jong, Suárez, Griezmann, Ansu Fati.
Dortmund have won three and lost one of their games so far this season. They have scored 12 in the three victories and most recently a 4-0 win over Bayer Leverkusen.
Alcacer can't stop scoring! He has seven goals in six appearances this season. And he also scored three in two with Spain on international duty.

Meanwhile, Paco Alcacer might be out for revenge tonight after his stint at Barcelona ended on a sour note. "I was treated very badly by some people at Barcelona," he said in the build-up to the game.

Hello and welcome to our live coverage of the Champions League's first group game between Dortmund and Barcelona. Kick-off from Signal Iduna Park is at 21:00 CEST!
.