Ter Stegen off his line for Reus penalty in Dortmund - Barcelona game
The German keeper had both his feet in front of the goal-line when he saved Dortmund's penalty in the 56th minute.
Marc-André Ter Stegen was without doubt Barcelona's man of the match as the Catalan giants kept Dortmund out to earn a 0-0 draw in their Champions League 2019/2020 opener. The goalkeeper was in superb form at Signal Iduna Park and made several superb saves, among them a fine diving stop to prevent Marco Reus scoring from the penalty spot after 56 minutes, the spot-kick having been awarded for Semedo standing on Sancho in the box.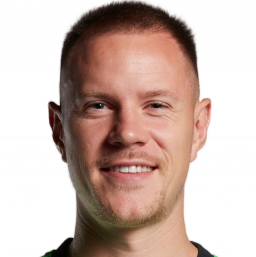 Ter Stegen off his line for Dortmund penalty


Before Reus took the penalty, the Romanian referee, Hategan, spent a fairly lengthy amount of time explaining the new rules for the goalkeeper at a penalty: namely that one of the keeper's feet must be on the line at the point the ball is struck.
However, despite this lengthy explanation by the referee, the cabers clearly showed that both Ter Stegen's feet were off the line when Reus kicked the spot kick. Despite the infraction Hategan didn't ask for the penalty to be retaken as it should have been, nor did the VAR intervene.
While the new rule is entirely clear, doubts are being raised over its application, after several high-level incidents of keepers being clearly off the line at the point the ball is kicked, saving the penalty with no subsequent order to retake the spot-kick. After Liverpool had won the UEFA Super Cup, with Adrian saving the decisive penalty while clearly infringing the rule, the keeper said "It's hard to stay on the line for penalties".