Real Madrid: Rodrygo Goes overtakes Brahim Díaz
Rodrygo has been included in Zinedine Zidane's last two squads, while Brahim was cut from the only list that he has featured in so far this term.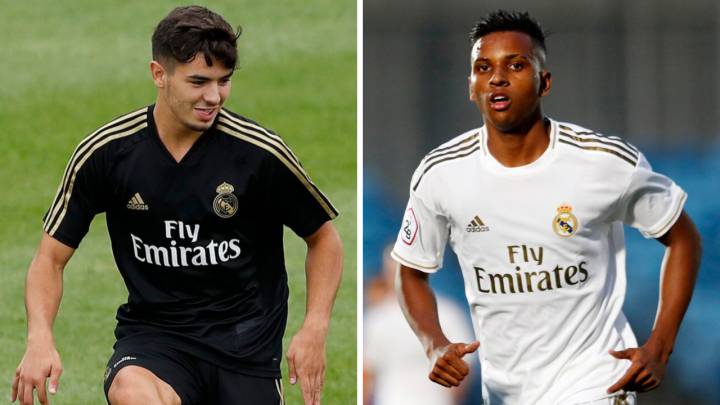 Zinedine Zidane's squad selections speak for themselves: Rodrygo Goes is currently ahead of Brahim Díaz in the Real Madrid coach's thinking.
Rodrygo in Paris for European opener, Brahim left out
In what is his second straight inclusion in the Madrid list, the teenager has travelled to France for Wednesday's Champions League clash with Paris Saint-Germain; meanwhile, Brahim finds himself in an altogether different situation: having also recovered from injury, he has been left out of the squads to face Levante and PSG.
Given the surfeit of attackers at Madrid right now - in stark contrast to Los Blancos' glaring shortage of midfielders - it was always an inevitability that there would be selection casualties. So far, the raft of injuries that have hit the first-team group this season have made Zidane's decisions easier, by reducing the options available to him. Even with competitors ruled out, though, Brahim has found himself overlooked in favour of Rodrygo in the two games since the international break.
Brahim twice struck down by injury this season
Injuries, to themselves and to others in the squad, have played an important role in both players' campaigns thus far. Brahim has been hit by not one, but two setbacks. Just five days into pre-season, the 20-year-old was the first to be consigned to the sickbay, after picking up a hamstring strain that sidelined him for a month and prevented him from playing any of Madrid's warm-up fixtures.
Then, having returned to fitness in time for the LaLiga opener at Celta Vigo on 17 August, and being included in the travelling party for the clash (only to be omitted from the final matchday 18, admittedly), he was ruled out with another muscle problem three days later, this time to his thigh, and did not complete a training session with the group until 11 September.
Rodrygo has also fallen victim to Madrid's injury plague, missing three weeks after also straining his thigh. However, he recovered a week earlier than Brahim and, having been available to train under Zidane during international week, has made the squad for the last two games. Against Levante he was a substitute and, as he did not finally play against Los Granotas, he was able to make his competitive debut for the club's 'B' team, Castilla, hours later in a 0-0 draw with Langreo.
The Brazilian has also benefited from injuries picked up by team-mates - most notably Marco Asensio's long-term absence with a torn anterior cruciate ligament, which paved the way for the summer arrival's addition to Madrid's 25-man Champions League 'A' list.