Real Madrid slump to defeat against PSG: player ratings
Zidane's side got their Champions Leagues campaign off to a terrible start with a 3-0 defeat in Paris. Here's how Courtois, Hazard, Bale and co. shaped up.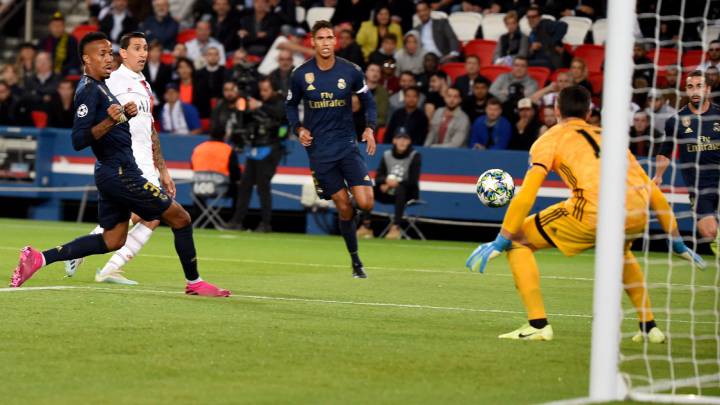 Courtois
Terrible mistake on Di Madría's opening goal, leaving his near post exposed and unable to get a hand on the ball despite it being close enough to him. Slow on the second goal too. He did make the occasional decent save at the start of the second half when PSG were piling on the pressure, but overall looked indecisive.
Carvajal
Booked for pulling Icardi back, and struggled on his wing to cope with Bernat's runs. Was missing in action for Di María's goal. One of his rare games in which Real Madrid struggle in his area of the pitch.
Varane
The defender isn't the same when he's not alongside Ramos - he doesn't seem capable of leading the defence in the absence of his captain. Badly exposed due to the lack of help from the midfield. Poor game, just when, no doubt as a Frenchman, he was hoping to shine in Paris, but it wasn't to be.
Militao
Failed to mark his man at the first goal, he's lacking confidence and is often out of position. He needs more games to show why Real Madrid signed him - he's demonstrated little so far.
Mendy
Missing in attack and vulnerable in defence, although it's true Hazard gave him little cover. Another chance wasted to show what he's made of. Di María's goal came from his area of the pitch.
Casemiro
On his own when it came to breaking down PSG's attacks, particularly against the aggressiveness of Marquinhos and Gueye. He was forced to cover not just his own patch, but that of Kroos and Modric too. Swamped by the PSG midfield, he did little when he had the ball.
Kroos
Without the ball it is what it is; with the ball it's not what it was. Lacks authority in possession, doesn't dominate the game, especially without Modric, and once again tip-toed through a big match. One of the worst in this white disaster.
James
Played high up the pitch, just behind Benzema and ahead of Kroos and Modric. It's his favoured position, but it's a luxury that can backfire in games like this. When he had the ball he didn't look in great shape, though had a couple of close efforts on goal. Substituted for Jovic after 70 minutes.
Bale
The only Real Madrid player to create any real danger. Fired a free-kick off the top of the net and scored a beautiful goal that was ruled out for handball. Had two other dangerous shots. In the second half he rather ran out of fuel and was taken off for Vinicius after 79 minutes.
Benzema
His team-mates looked for him with long balls, which doesn't suit him in the least. A victim of a poor game from his midfielders, he barely touched the ball. Even so he had a goal chalked off due to Lucas being in an offside position and had another chance.
Hazard
Trapped on the left, when he had the ball he showed touches of quality but was unable to make a decisive impact. He came off for Lucas at the same time as James. He still looks somewhat out of shape, which is devastating for his game.
Lucas Vázquez
Zidane's first change. Poor positioning from him led to Benzema's goal being ruled out for offside. Didn't turn the game around as Real Madrid had hoped.
Jovic
Came on to join Benzema up front. Saw little of the ball and made few incisive incursions into the box, his favoured habitat.
Vinicius
Came on near the end with the game already over. Got booked for a tussle with Di María and watched PSG make it 3-0.