Barcelona's worst figures away from home in 25 years
A quarter of a century has passed since Barça failed to win their first three away games of the season. That season, they finished fourth in LaLiga.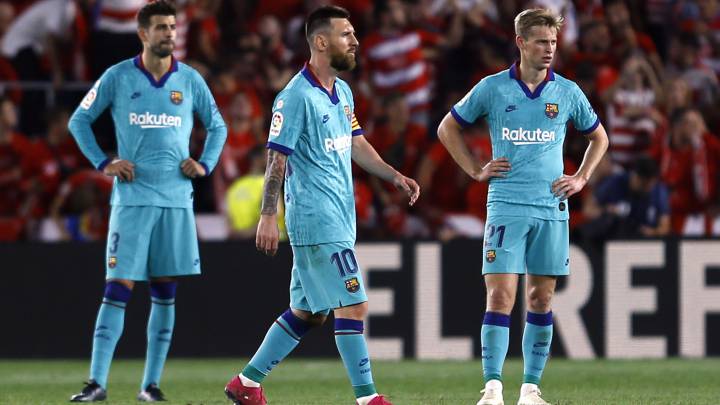 Barça's start to the 2019-2020 campaign is starting to become a little worrying with some commentators comparing it to that of the worst blaugrana sides in club history. It's been 25 years since Barça last failed to win their first three away matches. On that occasion, they lost 2-1 to Sporting in Gijón, draw the Catalan derby at Espanyol (0-0) and lost 2-1 to Víctor Fernández's great Zaragoza side.
The Dream Team disintegrates
That Barça, during the 1994-95 season, was the post-Athens team (which had lost 4-0 to AC Milan in the European Cup final) - one in which several key players had left, including Andoni Zubizarreta and Michael Laudrup. The club signed Hagi following his impressive performances at the World Cup in the United States that summer but then they made some strange signings, bringing in players like Eskurza, Sánchez Jara, José Mari, Escaich and Korneiev. That season, Barça finished fourth in the table - nine points behind champions Real Madrid, and left two embarrassing moments which horrified culés - the 5-0 defeat at the Bernabéu and a similar thrashing at El Sardinero against Racing.
That team performed well whenever they played at Camp Nou but were a disaster on the road. It was a season to forget and was the beginning of the end for Ronald Koeman. Johan Cruyff understood the need to dismantle and completely rebuild the side (his decision heralded the birth of the Quinta del Mini with Albert Celades, Iván De la Peña, Roger together with a clutch of signings - Popescu, Figo, Kodro...).
Slow to start in 1998
The current Barça side are showing symptoms that this too could be the end of an era. However, it's still too early to make any definitive conclusions. In 1998, Barça didn't win any of their first four official games away from home (Racing de Santander and Real Madrid in LaLiga, Mallorca in the Spnaish Supercup and Manchester United in the opening group game of the Champions League but the team recovered and went on to win the league with Van Gaal. Something does seem amiss with the current Barça side who have gone two games in LaLiga and have suffered two defeats which haven't been down to bad luck - including last night's at Granada.