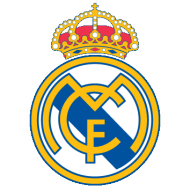 1
Real Madrid stall crisis talk with win over Sevilla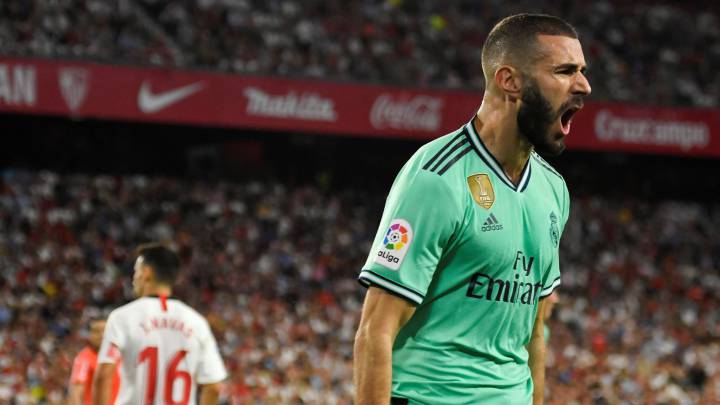 Sevilla vs Real Madrid: as it happened!
Karim Benzema's header seals it for Real Madrid after a pretty putrid week for them. They play Osasuna during the week and then Atlético Madrid next weekend.
Just about 30 seconds to go. Sevilla attack.
Benzema to Bale and he hesitates, loses a defender and shoots into the side netting.
Vazquez drives forward and plays out to Benzema.
Nolito caught by Carvajal and he's lucky not to see his second yellow.
Bale caught just on the back of the head and it's a free for Madrid as they look to let the clock tick down.
Ball across the field as Hazard picks it off. Benzema crosses low and it's cleared. Bale clips it into Hazard but his touch is poor and Sevilla clear.
GOAL! But Chicharito is offside.
Another Ocampos delivery. Reguilon can't keep it in.
Ocampos with a beautiful delivery after dropping the shoulder and leaving Hazard for dead. Nobody on the end of it.
Ocampos with a lovely cross and De Jong can't head it towards goals.
Ocampos kicks the ball around Ramos and has his arm pulled back. No free.
Sevilla improving again. Madrid backing off after the goal.
Dangerous area too. Banega assessing the terrain. Crossed in and headed out. Another ball in and it's glanced just wide.
Ocampos has been excellent tonight. He spins but loses the ball and Navas picks it up. Hazard pulls him to the ground and Sevilla win a free.
Chicharito on for Joan Jordan.
Cross in and it falls to Ocampos but he hits it on the half volley and it's well over the bar.
Sevilla seem to have run out of ideas. All the onus on them now. Madrid have defended quite well.
It's been 16 years since Barcelona, Atlético Madrid and Real Madrid haven't scored in the same weekend!
Some very tired legs here.
Ramos obstructs Ocampos down the sideline as he is about to be beaten and he gets a yellow card.
A good attack from Sevilla as the game opens right up now.
Torres again and he plays out to the left. Hazard attacks now and Jesus Navas catches him. Free for Madrid.
Hint of a hand ball from as it's headed down to Casemiro in the box. Nothing, as replay shows. It hit the top of his shoulder.
Sevilla put pressure on Madrid after Oliver Torres loses it. They win it back and attack again.
Carrico ends up shooting but that's miles wide.
Corner for Sevilla. Cleared. But Sevilla attack again.
Oliver Torres comes on as Franco Vazquez makes way.
It was a poot pass from him that sent Hazard forward. He is in the book now for it.
Sloppy from Joan Jordan as he pulls Hazard to the ground.
Ball in around the back and it's James reaching for it. He can't and it's over the endline. Another good start for Real Madrid. They've been competent tonight.
Another attack and another ball cut back that's too short.
Bale breaks down the right. He cuts back to Benzema but that's too short and Sevilla recover.
Ocampos strikes and Mendy blocks. Really well defended by the left-back, who has looked impressive again.
No changes but Lopetegui has three players warming up on the sideline Amongst them is Chicharito.
No changes for either side at the break.
Teams emerge back on the field and we are ready for action again!
Varane catches De Jong. Free for Sevilla as Joan Jordan lines it up to send it in.
We are approaching half-time here as both sides eye the dressing room for a chat. Really lively first half. Sevilla have looked sloppy and allowed Madrid in for a couple of chances but they are the more structured side, it seems. Nerves from both sides.
Free as Diego Carlos mounts Casemiro.
Sevilla win another corner. Ocampos this time the man who pelts it off Mendy.
Caravajal syands and clatters into Vazquez. Looked like he knew what was happening there and the referee might have a word with him. Both players remain on the ground.
Mendy might have fallen foul of the law now as he catches Jesus Navas with a hand to the face. The right-back goes down in a heap but the referee sees nothing wrong. It was accidental by Mendy.
Bale with the free. Nope, it's too far out and it almost bounces in front of Vaclik but he grabs it.
Sevilla playing with fire. Carvajal breaks down the right and he shoots. Vaclik saves and it falls to Benzema but Sevilla clear. Foul on James as the ball bobbles around outside the area.
Really even game so far. There is a lot of tension in the air. Madrid for obvious reasons and Secilla because they aren't really sure what version of Madrid they are playing against.
Corner arrives and it's Casemiro with the foul in the penalty area.
Great chance for Madrid. Fernando gets caiught in possession as he turned and has James in his face. Hazard down the left and he shoots. Vaclik saves! Corner.
There's another corner and it's De Jong who heads just wide. A combination actually as De Jong headed it onto Vazquez and it glances wide off him.
Carvajal with a beautiful first-time pass to James but his first-time cross is dreadful as it loops up to Vaclik.
And now Madrid win a corner and whip it into the box. Another corner from the other side.
Yellow for Sevilla. It's Lopetegui for complaining about that Bale challenge. He hasn't stopped since.
Another yellow. Bale this time as he pulls down Vazquez. The fans hiss for more but it's just a yellow for now. That's both of Madrid's right sided players on yellows.
Reguilon tries to drive forward but James is back and gets a toe in to send it out for a throw. Madrid's challenge starting to disappear here. They're under increasing pressure.
Cross sent in but there was a foul as it was lofted into the box. Free for Madrid.
De Jong fed by Banega. He's up on his own and he wins a corner. Carvajal lunges and clears it from immediate danger. Better again from Sevilla. Madrid started to look nervy again.
Carvajal kicks it off Reguilon and wins a corner.
Banega tries to loop one out wide but Mendy pokes it to Hazard. The ball is sent out to Bale and then across to Mendy again. Madrid building.
Ocampos hauled down by Carvajal as he tried to break.
Hazard lays off to Benzema and.....the less said about that shot the better. Benzema has a look at the ground. Yeah, must have been a bobble.
Sevilla slowly starting to win control of this game. Banega tries a creative pass over the top but Courtois foils him.
Another win back for Sevilla and Ocampos wins a corner. Sloppy from Carvajal.
Ocampos to Reguilon and he drives a cross in. Courtois grabs it.
Sevilla now with a decent spell on the ball. Ball delivered in around the back to Ocampos and he clatters into Carvajal. No harm, no foul. Kick out for Madrid. Lopetegui up off the bench now and screaming at his side.
Carvajal with a deep pass in around the back but that's straight to Vaclik.
Madrid have started well and continue that decent start. They have look a little suspect at the back but in the middle and attack, things going okay so far.
James takes and it's headed out for Casemiro to chase. Madrid attack again.
Bale with a dangerous cross in from the left. It's a deep cross to the back post and Sevilla are forced to head it out for a corner.
Carrico with a chilena but it's well wide. Nice technique, poor connection and it's well wide.
Madrid recover it through Casemiro and start to build. Sevilla cut it out and Fernando finds Banega. They look dangerous in attack and Navas wins another corner for the home side.
Sevilla putting Madrid under pressure and they forced the long kick by Courtois.
Another cross and De Jong sees hit effort knocked wide. Corner! It hit off Varane's arm but his arms were in by his stomach. No VAR, no penalty.
Carvajal moves forward and gives the ball away tamely in the penalty area. Sevilla break and Banega crosses. It's headed out for a corner.
Free is clipped into the back post and Fernando chests it out for a corner. Kroos works it short. Crossed in and Benzema heads over. Not a bad chance at all. Madrid haven't started poorly.
Casemiro is fouled by Fernando and as Sevilla break, the ref whistles. Looked like a soft free as he got the ball but there is a nick on Casemiro's shin too.
Mendy with a ball out to Bale. Benzema takes it and it works its way all the way out to Mendy again. His cross is overhit as Bale tries to reach for it at the back post.
Banega passes the ball out over the line. Madrid get a taste of possession for the first time. Sevilla playing in a 4-4-1-1.
Sevilla on the ball to start. This is going to be very tiring for Real Madrid if they have to keep chasing like this.
We are underway! Sevilla kick us off and Real Madrid immediately put them under pressure.
Real Madrid in their mint green shirts. Sevilla in their all white on the night. Slight clash maybe but the alternative was never going to work.
And the teams take to the field as Ramos and Jesus Navas head up for the coin toss. We are ready for action.
Players in the tunnel. The Sevilla fans singing the club's official club a capella. Lovely!
This is the first time Lopetegui has played with this eleven this season. El Mudo Vazquez coming in is interesting. They won't have as much width tonight but the middle will be secure as they possibly look to get at Madrid's midfield.

Madrid's board were said to be angry after Zidane gave the players the day off after the PSG loss. It is almost like a copy of last season when Lopetegui was criticised for not making the team meet in a hotel the night before home games to concentrate on the task at hand. Anyway, let's see if the day off helped them.
He makes just one change from that team that lost so badly to PSG. Militao is out and Ramos comes in.
There was talk that Zidane might change his system for this game but he looks to have gone for the tried and tested here.
Chicharito has to suffice for a place on the bench tonight as Lopetegui picks De Jong in his stead.
Sevilla XI: Vaclík; Jesús Navas, Diego Carlos, Carriço, Reguilón; Fernando, Joan Jordán, Banega; Ocampos, Franco Vázquez, De Jong.

Real Madrid XI: Courtois, Carvajal, Sergio Ramos, Varane, Mendy, Casemiro, Kroos, James, Bale, Benzema, Hazard.

With alarm bells ringing for Madrid and Zidane, they need Hazard to perform with the game at the Sanchez Pizjuan offering a perfect opportunity.
Hello and welcome to our live online coverage of Sevilla vs Real Madrid. Barcelona have already lost, Atlético drew with Celta and we have a top four clash ahead of us tonight. Kick-off from the Ramon Sanchez Pizjuan is at 21:00 CEST.
.