Barça: Luis Suárez nabbed on camera calling lino a "cone"
The Barcelona forward may be forced to give an explanation to the LFP of his comments towards the match official in Los Cármenes.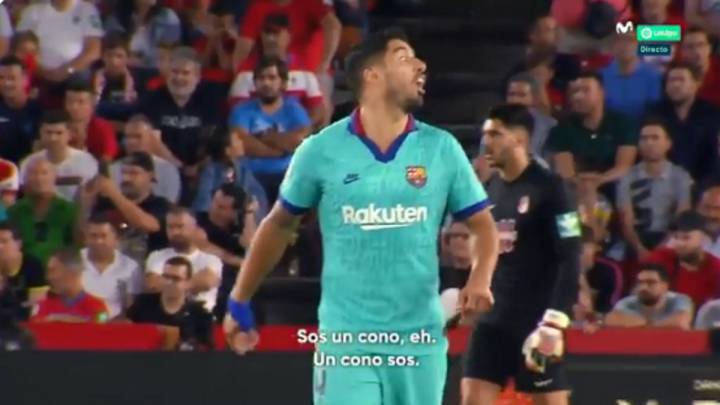 Barcelona's season reached its lowest ebb in Los Cármenes as newly promoted Granada scored a deserved 2-0 victory over the struggling champions to briefly go top of LaLiga.
And the frustration creeping into Ernesto Valverde's squad was personified by Luis Suárez, who was starved of opportunity in Granada and may face retroactive action after taking it out on a linesman, who he referred to as a "cone" after the assistant failed to spot what Suárez felt was a clear foul by an opposition player.
The Uruguayan's observations were picked up by the ever-watchful eye of the television cameras and it remains to be seen if LaLiga's disciplinary committee decides to look into the matter. However, the term cone in Spanish is not particularly offensive depending on the context and can be literally translated as in traffic or training, but also carries a more derogatory implication that the LFP may take into consideration.
Suárez has fallen foul of referee comments before
Suárez's rap sheet is famously lengthy and last season LFP chief Javier Tebas suggested the Barça forward should be punished after attempting to incur a yellow card during a game against Girona, which would have cleared his slate of cautions to free him up for the Atlético match after serving a one-game ban against Las Palmas, even though Suárez's bid was unsuccessful.
The Uruguayan was banned for the 2017 Copa del Rey final after suggesting that referee Jesús Gil Manzano cautioned him for a non-existent foul. "I can only laugh at the second yellow card," Suárez said. "It wasn't even a foul, but we know how it works here. It seems like it was what he [Gil Manzano] wanted."
Barça's appeal was unsuccessful and Suárez missed the showpiece against Alavés but by far his most infamous ban was the four months he receieved for chowing down on Girgio Chiellini's shoulder at the 2014 World Cup, an incident that he feared would prevent his imminent signing for Barcelona.