Continuity paying off for LaLiga leaders Bilbao and Madrid
According to data from the CIES, LaLiga leaders Athletic Bilbao and Real Madrid are the two Spanish clubs that have least depended on new recruits this season.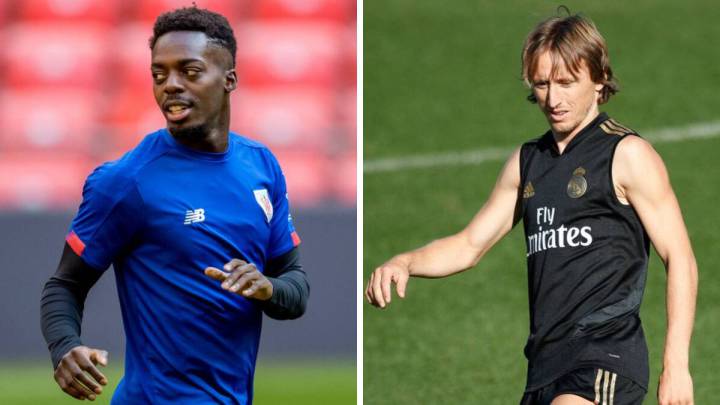 The CIES Football Observatory has published a report detailing the percentage of total domestic league minutes played by new squad additions for all clubs in the big-five European leagues so far this season.
According to the CIES data, Fiorentina is the club that has so far shown the most confidence in new recruits, which have played 69.5% of total domestic league minutes available. It must be noted that a lot of those minutes went to players who have returned from loan spells, but the club's new owners have also made good use of several new signings, such as Kevin-Prince Boateng, Erick Pulgar, Franck Ribéry and Martín Cáceres.
Fellow Serie A club Hellas Verona is in second place with 58.5%, followed by Sevilla in third. Sevilla boss Julen Lopetegui has given 54.3% of the possible minutes available to new signings. Among those new faces at the Pizjuán that have been key start to the club's decent start to the season are Diego Carlos, Fernando and Jordán.
Real Madrid and Bilbao stick with continuity
Meanwhile, Athletic Bilbao is the club that has given the least perentage of minutes to new players amongst all clubs in the big-five leagues, with just 1.3%. This is explained by the fact that the Basque club made no new signings this summer (the eight new additions to the squad have been young players promoted from the 'B' team or returning loaned players). But considering that Los Leones are currently sitting top of LaLiga, continuity has so far served coach Gaizka Garitano well. The same can be said for German club RB Leipzig, which has the second lowest percentage after Athletic (3.0%) and is currently leading Bundesliga.
In respect to the other clubs of reference in Spain: Atletico Madrid's new signings, such as Kieran Trippier, Lodi and Joao Felix, have played 30.5% of the total domestic league minutes available, while Barcelona coach Ernesto Valverde has given 17.7% of the available minutes to new squad additions, with Frenkie de Jong and Griezmann leading the pack.
Real Madrid, which spent a staggering 307.5 million euros in the summer, has only depended on new signings for 10.3% of the total minutes available, the second lowest figure among LaLiga clubs after Bilbao. It must be noted that Eden Hazard has so far missed the majority of the domestic league minutes due to injury, playing 120 minutes over the last two games since his return.
Meanwhile, Militao has played a total of just 30 minutes; Ferland Mendy 180 minutes; James 223 minutes; and Jovic 106 minutes; while Rodrygo and Areola have yet to make their LaLiga debuts.
Zidane has so far entrusted the old guard, and like for Bilbao coach Garitano, that decision has so far paid off considering the fact that Madrid sit in second place and level on points with Los Leones.
Percentage of minutes played by new signings in Big-5 leagues (source: CIES Football Observatory)
| | | | | | | |
| --- | --- | --- | --- | --- | --- | --- |
| Position | Club | % | | Position | Club | % |
| 1 | Athletic Bilbao | 1,3 | | 50 | Eibar | 22,6 |
| 2 | RB Leipzig | 3 | | 51 | Roma | 23 |
| 3 | Tottenham | 5 | | 52 | PSG | 23,2 |
| 4 | Wolverhampton | 5,1 | | 53 | Inter Milán | 23,5 |
| 5 | Schalke 04 | 5,2 | | 54 | Paderborn | 23,7 |
| 6 | Norwich | 5,3 | | 55 | Olympique de Lyon | 24 |
| 7 | Atalanta | 5,5 | | 56 | Bournemouth | 24,1 |
| 8 | Crystal Palace | 6,4 | | 57 | B. Möenchengladbach | 24,1 |
| 9 | Leicester City | 7 | | 58 | Espanyol | 24,3 |
| 10 | Milán | 7,6 | | 59 | Osasuna | 24,9 |
| 11 | Manchester City | 7,7 | | 60 | Fortuna Düsseldorf | 25,3 |
| 12 | Liverpool | 8,3 | | 61 | Montpellier | 25,5 |
| 13 | Bayer Leverkusen | 9 | | 62 | Manchester United | 25,8 |
| 14 | Torino | 9,5 | | 63 | Celta | 26,3 |
| 15 | Freiburgo | 10,3 | | 64 | Betis | 27,5 |
| 16 | Real Madrid | 10,3 | | 65 | Alavés | 27,5 |
| 17 | Wolfsburgo | 10,4 | | 66 | Brest | 28 |
| 18 | West Ham | 10,6 | | 67 | Bolonia | 28,4 |
| 19 | Lazio | 10,7 | | 68 | Toulouse | 29 |
| 20 | Watford | 10,9 | | 69 | Rennes | 29,7 |
| 21 | Burnley | 10,9 | | 70 | Atlético de Madrid | 30,5 |
| 22 | Stade Reims | 11,1 | | 71 | Brescia | 30,8 |
| 23 | Niza | 13,1 | | 72 | Getafe | 32 |
| 24 | Valladolid | 13,7 | | 73 | Udinese | 32,7 |
| 25 | Valencia | 13,8 | | 74 | Parma | 32,8 |
| 26 | Hertha Berlín | 13,9 | | 75 | Eintracht Frankfurt | 33,3 |
| 27 | Everton | 14 | | 76 | Chelsea | 33,6 |
| 28 | Nápoli | 14,3 | | 77 | Granada | 33,7 |
| 29 | Nantes | 14,4 | | 78 | Hoffenheim | 34,4 |
| 30 | O. Marseille | 14,7 | | 79 | Girondins | 35,7 |
| 31 | Angers | 15,1 | | 80 | Amiens | 36,7 |
| 32 | Brighton | 15,3 | | 81 | Colonia | 37,5 |
| 33 | Metz | 15,6 | | 82 | Nimes | 37,9 |
| 34 | Strasbourg | 15,6 | | 83 | Villarreal | 38,3 |
| 35 | Sheffield United | 16,4 | | 84 | SPAL | 38,4 |
| 36 | Arsenal | 16,6 | | 85 | Sassuolo | 39,1 |
| 37 | Barcelona | 17,7 | | 86 | Dijon | 39,2 |
| 38 | Sampdoria | 18,2 | | 87 | Cagliari | 39,9 |
| 39 | Mainz | 18,2 | | 88 | Saint-Etienne | 40,9 |
| 40 | Werder Bremen | 19,1 | | 89 | Mónaco | 42,5 |
| 41 | Real Sociedad | 19,4 | | 90 | Lille | 43,1 |
| 42 | Juventus | 20 | | 91 | Lecce | 44,5 |
| 43 | Newcastle | 20,3 | | 92 | Genoa | 45,6 |
| 44 | Levante | 20,4 | | 93 | Unión Berlín | 48,1 |
| 45 | Southampton | 20,7 | | 94 | Aston Villa | 50,4 |
| 46 | Bayern Munich | 21 | | 95 | Augsburgo | 50,8 |
| 47 | Mallorca | 21,1 | | 96 | Sevilla | 54,3 |
| 48 | Leganés | 21,5 | | 97 | Hellas Verona | 58,5 |
| 49 | Borussia Dortmund | 22,5 | | 98 | Fiorentina | 69,5 |