2
Griezmann 5',
Arthur Melo 14'

1
Barcelona make hard work of Villarreal as Messi suffers injury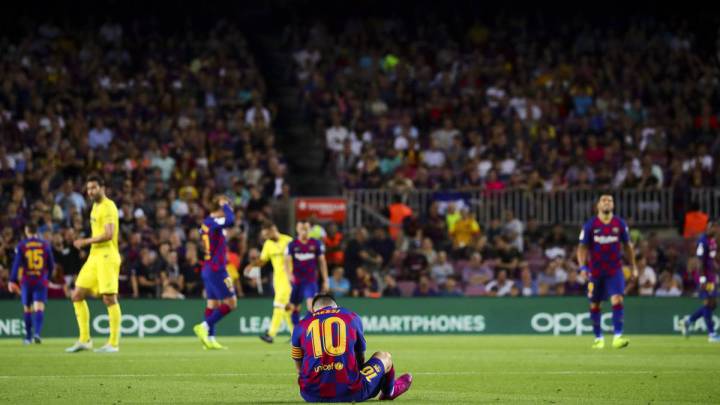 Barcelona vs Villarreal: as it happened!
GAME OVER as Griezmann blazes a shot over the bar. Job done for Barcelona as they collect three points after a rough few days.
Last chance for Villarreal now and they look exhausted.
Ansu Fati lighting the place up. He rounds a defender and tries to clip it to Dembele. Cut out but Villarreal can't capitalise.
Three minutes of added time at the end of this one.
Offside from Bacca. If they had anything in attack, they might have troubled Barcelona a little more but it looks like a moral victory for the visitors tonight.
Busquets booked now for fouling a Villarreal player on the counter.
Free for Barcelona now just outside the box. Pique to take and he gets it on target only for Asenjo to save. Not bad at all.
Last few minutes now and the game is quite open. Could still go either way.
Referee has a consult with VAR and says play on. No penalty.
Fati goes down and he wants a penalty. Villarreal want a card for a dive. They'll get VAR.
Griezmann again into Fati. He puts his foot on it before striking with his left. Just wide! What a talent.
He nearly has a goal with his first involvement. Griezmann pass into his path catches him just offside. He fires over anyway but a really dangerous attack nonetheless.
Suarez off now for Ansu Fati. Another round of applause from the Camp Nou.
Cazorla taken off for Bacca. The Spanish midfielder off after a fairly heavy duty shift.
Lovely ball over the top for Dembele and he is offside. Might have been unlucky there and the Camp Nou agrees.
Semedo keeping Villarreal on their toes. He attacks and wins a corner.
Barcelona looking to put this one to bed. De Jong can't get it to fall for him in time and he pokes it out to the right. Chance gone but Barça keep it and recycle possession.
Shot from Moi Gomez on his right. It's always drifting wide but it's another effort. Ter Stegen grabs it.
Moi Gomez comes on for Villarreal. Off goes Gerard Moreno. Barcelona fans give him a bit of hate for his past as an Espanyol player.
Ekambi fashions a shooting chance for himself and it's blocked and out for a corner.
Long ball down to Chukwueze and Ter Stegen is off his line to head it out for a throw.
Chukwueze with the shot. Blocked and he gets it again, sends it to Ekambi and he squares. Pique clears! Nervy moments every time Villarreal attack Barcelona.
Valverde is making a change as he replaces Sergi Roberto for De Jong. Massive cheer from the crowd.
Dembele loses control and fouls Moreno. All very tight in attack for Barcelona.
Sergi Roberto with a through ball for Griezmann but it's picked off by Villarreal and they counter. Cross into the box from the right is taken down by Ter Stegen.
Villarreal slowly grabbing some control of this one. Barcelona with the better chances, by far, but Villarreal growing in confidence.
Ekambi subbed on for Ontiveros.
Now Junior squares and it's crossed to the middle and cleared. Corner for Arthur to take.
Dembele takes off down the right and he can't get to it before Villarreal clear. This is the Dembele Barcelona bought from Dortmund! He has been really, really lively.
Chukwueze with a curler that doesn't quite curl as it heads for the corner of the stadium. Awful hit after getting into a nice position for a strike.
A lovely move from Barcelona but Suarez gives it away with a rushed pass to nobody.
Suarez with the chance to make it 3. Dembele crosses and Suarez makes a dog's dinner of it.
Dembele hauled down by Ontiveros and he wants a yellow for the Villarreal player. in fairness, he had a right kick at the chap's legs. Probably deserved a yellow.
Game is really opening up now as Barcelona break but the ball to Suarez seems him just a half a yard off.
Another really deep cross by Cazorla. The ball went out of play though on it's way out the back.
Barcelona looking very vulnerable. Down the right and the ball is popped into Cazorla. He shoots and Ter Stegen saves. Corner for Villarreal.
Lovely pass from Dembele into Roberto's path. He gets it back and crosses into Griezmann, who whiffs at it! That would have been a perfect intrduction for Dembele.
That change is confirmed. Messi off for Dembélé.
Dembele out doing the last of his warm-up. Messi won't continue it seems.
GOAL! Santi Cazorla with the hit on his left foot. He beats Ter Stegen from distance. Could be a game on here after a fairly poor start from Villarreal.
Chukwueze gets a strike off now and he sends it over. Wouldn't matter anyway as he was offside.
Gerard Moreno slides in on Arthur and the ref plays advantage. The fans want more than advantage as they whistle for a yellow. It was late but the referee says no.
Lovely cross from Cazorla but Ter Stegen extends and punches away.
Counter now from Villarreal. Out to Moreno and it's crossed to Chukwueze. Awkward one for him as it hits a Barça player and out for a corner.
Barcelona dominating possession here and they¡re building again. Arthur tries to thread one through to Semedo but Villarreal recover.
Ontiveros down for Villarreal getting treatment.
Free for Barcelona again way out on the right and it's Messi who whips it in. Close to Pique but closer to Asenjo and he grabs it.
Dembele is still warming up and watching on intently.
Messi just walking now. He hasn't had to exert himself since going down injured. But now Suarez is down holding his face. This one isn't serious. Free for Barcelona.
Messi is back up and back on the field. Unclear what's up with him but we'll find out fairly soon if he's okay to continue. Looks like he's fine.
Villarreal with a free that's sent into the box and straight back out again.
Messi is getting treatment on his leg. Dembele is warming up and receiving instructions
Meanwhile, Sergi Roberto on a yellow card after fouling Cazorla earlier. Ref didn't have a chance to book him but he didn't forget.
Messi is fouled. He tries to wriggle out of trouble but gets caught and tripped.
Villarreal finally getting on the ball now and tryung to build an attack. Out wide to Chukwueze as he lines up Junior, who turns him back. The visitors still in possession though.
Long ball across the field for Cazorla, it looks like, but it's miles off and Villarreal give the ball straight back to Barcelona.
Villarreal can't get a kick of it.
Barcelona settle on the ball now before Junior takes it forward. He squares and Griezmann gets a shot away. It's blocked but Barça keep it. They've started really brightly.
Messi goes on one of his trademark runs where it's unclear as to how he kept the ball, stayed on his feet and managed to keep the attack going. Villarreal defenders just as surprised. But it comes to nothing.
Cazorla sends a ball out to Chukwueze, who sends a shot towards goal. Piqué's head stops it on its path and then a ball through the defence dribbles into Ter Stegen.
Barcelona's nerves settled. Ball over the top looking for Suarez and it's an awkward one for Villarreal to deal with. It's headed out as Barcelona look for their second.
GOAL! Griezmann heads in at the near post. He glances it in from a Messi corner but that's shabby defending and keeping.
A game of corner so far. Another one for Barcelona as Semedo kicks it off a defender and the home side get to send it into the box from the other side.
The corner is deep by Cazorla and it's driven over by a yellow jersey at the back post. Albiol the man who couldn't get the shot on target.
Villarreal straight back up the other end and Ontiveros pressure Semedo into a corner. Some serious speed shown off by Semedo to recover but he can't prevent the corner.
Villarreal concede a corner. Sent into the box and headed out. Barcelona keep it and it's chipped inside to Messi. He takes it down with a nice touch on his knee but drives into the side netting.
We are underway at Camp Nou. Barcelona on the attack but Messi loses it and the Villarreal return the favour with Anguissa's sloppy touch.
Barcelona's anthem rings around the Camp Nou as the team greets the fans. Villarreal in their very yellow jerseys, Messi leads the team as they shake hands with their opponents!
We are almost ready for action at Camp Nou.
This was an incredible game. They needed Messi to bail them out on this night but he starts tonight.
It says here that Valverde could change tactics and put Suárez and Griezmann up top in a 4-4-2 with Messi as the central attacking midfielder.
Valverde has assumed responsibility but if they don't win tonight, it might be the end of the road for him.
Chukwueze gets a start again after being rested at the weekend. Villarreal probably played their most complete game of the season during a 2-0 win over Mallorca a couple of days ago and will look to hit a reeling Barcelona early tonight.
Villarreal XI: Asenjo, Peña, Pau Torres, Albiol, Quintilla, Cazorla, Iborra, Chukwueze, Anguissa, Ontiveros, Gerard Moreno.
De Jong being rested is a strange one, however, as Lenglet and Piqué have also played every minute this season. Semedo has played almost every minute too and isn't off to the best start.
Messi gets his first start of the season. Meanwhile, Firpo plays on the left despite his poor debut against Granada that saw him whipped off at the break. No Dembélé just yet in the starting XI and De Jong is rested.
Barcelona XI: Ter Stegen; Semedo, Piqué, Lenglet, Firpo; Sergi Roberto, Busquets, Arthur; Messi, Suárez, Griezmann.

As explained in this article, Valverde is currently living through his third crisis at Barcelona. The last two came at the end of the season though while this one has started very early into the current campaign.
Ivan Rakitic was the man singled out after the pitiful Granada display. He is dropped for Dembele, who might be the very man needed to inject some pace and purpose into this team.
Hello and welcome to our live coverage of Barcelona vs Villarreal. Ernesto Valverde's job hangs by a thread but his Barça side are back in the comfy environs of the Camp Nou where they don't have a problem. It's away from home where they struggle. Kick-off for this one is at 21:00 CEST against a very lively and unpredictable Villarreal side.
.