Zidane asked if I would score and I said 'yes' - Vinicius recalls stunning season debut goal
Vinicius marked his first goal of the season for Real Madrid with a stunning strike from 20 yards against Osasuna on Wednesday night.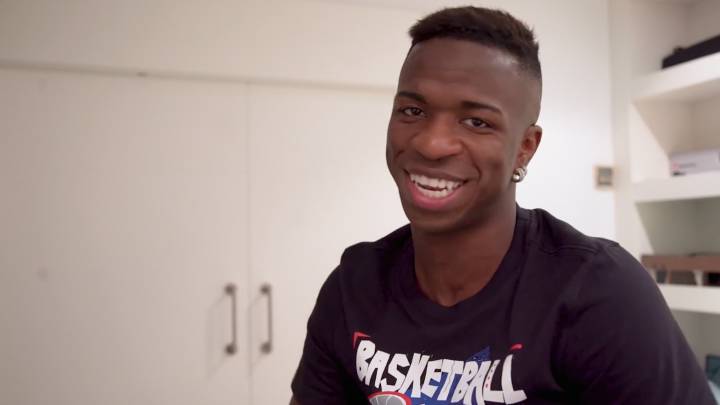 Vinicius marked his first goal of the season for Real Madrid in spectacular style, scoring the opener in the 2-0 win over Osasuna on Wednesday.
In the 36th minute, the Brazilian recieved a simple pass from Toni Kroos on the edge of the box, took two touches before expertly curling the ball into the top right corner with his right foot from 20 yards, leaving the outstretched keeper Rubén Iván Martínez with no chance. Although it must be noted that the ball was slightly helped in by the boot of Osasuna defender Raúl Navas.
Such was the emotion and relief for the 19-year-old after scoring his first goal of the season, that he could not hold back the tears, and was seen kneeling on the ground with his face in his hands, while his team mates came to congratulate him.
"I normally don't shoot from outside the box" - Vinicius
In a video released on the player's own YouTube channel on Thursday, recorded at his Madrid home on Wednesday night after the game, Vinicius gave his insight into his thoughts in the immediate lead-up to the goal, and revealed what coach Zinedine Zidane had asked him prior to kick off.
"Normally I don't shoot from outside the box, but I controlled the ball well and for me it was clear I had to shoot," said the young Brazilian winger.
"Before the game, Zidane asked if I was going to score, and I told him 'yes'. And when I recieved the ball, the first thing that came to my mind was to shoot."
It was a night of equal delight for his compatriot Rodrygo, who came on for Vinicius in the 71st minute and scored just 93 seconds later, making it the fastest debut LaLiga goal by a Madrid player since Ronaldo Nazario in 2002 (62 seconds).
Zidane comments
After the game, Zidane expressed his delight for both players, bringing attention to their young age.
"I'm glad for him (Vinicius), he's very excited and very happy, and also for Rodrygo, who has scored in his first minute, with fanstastic control, which was half a goal. Sometimes we forget that they are 18 years old."