Morata's damaged heel somewhat explains furious red-card reaction
The image circulating of Morata's bruised heal goes some way in helping explain his furious reaction that led to the red card that has ruled him out of the Madrid derby.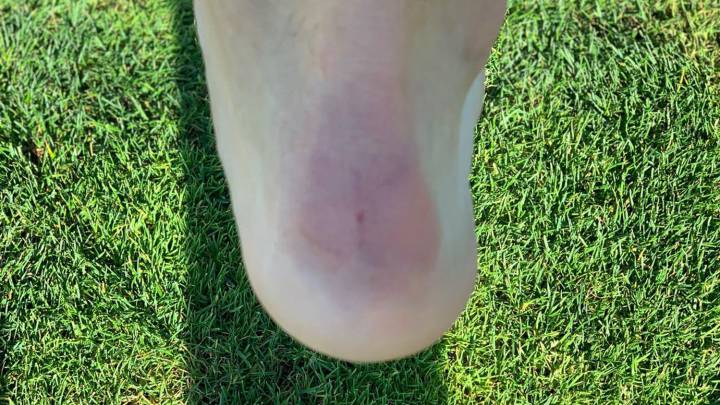 Atlético Madrid striker Álvaro Morata must watch Saturday night's Madrid derby from the stands as a result of his one-match suspension for being sent off in the mid-week fixture against Mallorca.
Morata came on in the second half of the 2-0 win at the Iberostar Stadium, but was soon given his marching orders after picking up two yellow cards in the less than two minutes following separate off-the-ball tussles with Mallorca players, Xisco Campos and Salva Sevilla.
The Atlético striker was absolutely furious after Campos caught the back of his heel with a late challenge, which led to the first heated exchange that prompted the referee to book both players.
Morata could not let the matter go and less than two minutes later was in another scuffle with Sevilla, during which the Atlético striker shoved his head toward his opponent's, giving the ref no choice but to issue a second yellow and send him off.
Morata's bruised heal
The ex-Chelsea man's fit of rage has cost him and his team dearly with his ban for the crunch derby with Real Madrid. But an image circulating of the player's bruised heel goes some way in helping to explain his furious reaction at the Iberostar Stadium that led to his dismissal.
A still image of Campos' challenge (seen above) also seemingly shows its apparent nastiness. And it was the kind of challenge that a couple of players, including Real Madrid's Luka Modric, have been sent off for already this season in LaLiga.
Nevertheless, it was Morata, and not Campos, who saw a red card, effectively ruling him out of Saturday night's showdown with Real Madrid at the Wanda Metropolitano, much to the loss of the home side.