Eden Hazard on Real Madrid life, Champions League and LaLiga
The Belgian winger was speaking to the press ahead of Tuesday's Champions League game against Club Brugge and wants to win it all.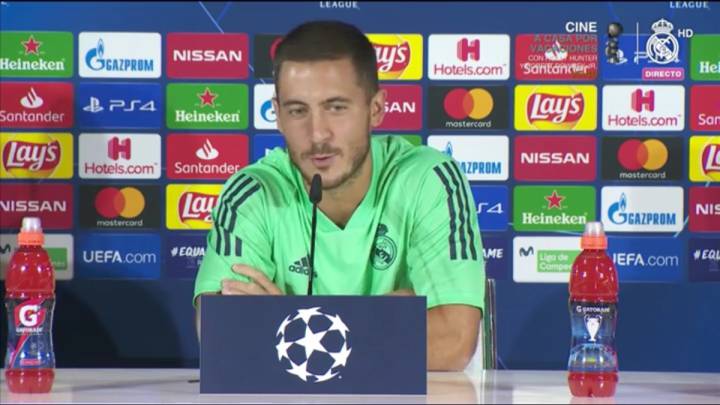 Ahead of Tuesday night's Champions League clash with Club Brugge, Real Madrid's biggest summer signing Eden Hazard was rolled out alongside his manager Zinedine Zidane to answer the media's questions. Here are some of his highlights...
Hazard on his first European night at the Bernabéu
"I imagine it with us scoring many goals, in a great victory. It will be difficult but after losing in Paris, but we have to win tomorrow."
Hazard on his early time at Madrid
"I feel good. People expect a lot from me, just as I do of myself. Personally I can do better. There will always be criticism but I have to keep working in order to achieve big things. Not everything is perfect but we are top of LaLiga, [even if] we lost in Paris. I was somewhat delayed due to the injury, but now I'm back at 100%."
Hazard on suggestions he's out of shape
"I know that people expect a lot from me, and I have to show them my level. People have seen what I have done in France, for Belgium and at Chelsea and I have to improve so that the fans can be proud of me."

Hazard on lack of confidence
"It is not a matter of confidence. The coach told me to try and do more, to do what I know. I have to give 100%, there is no need to discuss injuries because I have recovered. I have to step up and make a difference"
Hazard on being a Galáctico
"I'm not yet a Galáctico. I have to be the one to prove that I can be out on the pitch. We all know the history of the number seven shirt at this club and I have to be the one to show that I can be the world's best."
Hazard on winning LaLiga or Champions League
"Both. When you play for Real Madrid you have to win everything."