Real Madrid: Zidane's Hazard defence isn't borne out by facts
Zinedine Zidane backed stuttering Real Madrid signing Eden Hazard by recalling that it "took me three months" to settle at Juventus. However...
Having so far struggled to find his feet at Real Madrid, summer signing Eden Hazard today faced up to the criticism he has received for his poor form, telling reporters: "People expect a lot from me, just as I do of myself - I can do better."
"It was much worse when I first moved to Italy"
During the same press conference, Hazard's coach, Zinedine Zidane, sought to lend his player some moral support by explaining that he too had endured a slow start at his new club after joining Juventus in 1996. "The same thing happened to me and I was relaxed about it," the Madrid boss explained. "I knew that things would start working out with time. It was much worse when I first moved to Italy. It took me three months before it all started coming together."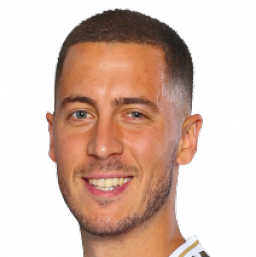 That's only half true, though. And the circumstances were very different.
Yes, his opening months at Juve weren't completely straightforward, but there were mitigating factors: he was just 24, it was his first time playing abroad, and he had arrived in the Italian league from the far weaker Ligue 1. On top of that, a then-significant fee of almost 4m euros placed a lot of pressure on an inexperienced Zidane's shoulders (albeit it was a fraction of the 15m pounds Newcastle United paid for Alan Shearer the same summer). Finally, Juve boss Marcello Lippi initially played him out of position, deploying him as the deepest-lying member of a midfield three.
Nevertheless, he made 10 out of a possible 13 appearances in his first two months in Turin. He played the full 90 in six of those games, and managed one goal (against Inter in the Derbi d'Italia), plus four assists - three of which came against Rapid Vienna, when Lippi opted to field him in a more advanced role just behind forward Alessandro del Piero. In November, Zidane's third month in Serie A, he supplied another assist, against Napoli, and featured throughout in three of seven games, playing his part in the Vecchia Signora's Intercontinental Cup win over River Plate.
Zidane's first three months at Juventus
| | | | | | |
| --- | --- | --- | --- | --- | --- |
| Competition | Games | Games played | Complete games | Goals | Assists |
| Serie A | 9 | 8 | 5 | 2 | 0 |
| Champions League | 5 | 4 | 2 | 0 | 3 |
| Coppa Italia | 5 | 2 | 1 | 0 | 0 |
| Intercontinental Cup | 1 | 1 | 1 | 0 | 0 |
Better start to life at Real Madrid than Hazard
In his first three months in Spain - and despite Del Bosque leaving him out of the first Champions League group phase almost entirely - Zidane played 17 out of a possible 25 games (of which he completed nine), scoring five and supplying four assists in that period. As things stand, Hazard is miles away from matching such figures: having started the season injured, the winger has only been able to feature in four of Madrid's eight games, playing the full 90 minutes just once, against Sevilla.
Zidane's first three months at Real Madrid
| | | | | | |
| --- | --- | --- | --- | --- | --- |
| Competition | Games | Games played | Complete games | Goals | Assists |
| LaLiga | 14 | 11 | 7 | 4 | 3 |
| Champions League | 7 | 2 | 2 | 1 | 0 |
| Copa del Rey | 2 | 2 | 0 | 0 | 0 |
| Spanish Super Cup | 2 | 2 | 0 | 0 | 1 |