Barcelona: Luis Suárez two goals shy of legendary status
The Urugauyan has bagged 182 goals in 254 games for Barcelona, leaving him two shy of Josep Samitier on the Camp Nou all-time scorer list.
Luis Suárez's strike rate for Barcelona has been consistent since his arrival at Camp Nou in 2014 and the Uruguay forward is now just two goals adrift of Josep Samitier on the all-time top scorer list at the Catalan club.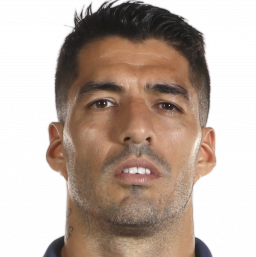 Suárez's double against Inter took him to 182 goals in 254 games for the reigning Liga champions, leaving the 32-year-old just two goals shy of Samitier's tally for the club.
Samitier, who played for Barça between 1920 and 1931, scored 184 goals for the club from midfield and stands fourth in the scoring list at Camp Nou behind Ladislao Kubala, César Rodríguez and his current teammate Leo Messi.
The Argentinean's current record of 603 goals for Barcelona is unlikely to ever be beaten, but at Suárez's current rate of scoring he has the second spot firmly within his sights. After Samitier, Kubala stands on 194 goals for Barcelona and César, whose record of 232 held for 57 years before Messi overtook him in 2012 at the age of 24, is within Suárez's reach if he sees out his current contract at Camo Nou, which expires in 2021.
Suárez ends Champions League drought
The Uruguayan's strike rate averages a goal every 120 minutes across all competitions, despite a curious statistic of going four years without finding the net away from home in the Champions League. In European competition, Suárez's rate drops to a goal every two and a half games, the striker having scored 22 times in 50 matches: Suárez's double against Inter matched his total across the two previous seasons in the Champions League.
In LaLiga, Suárez has scored 134 goals in 168 games, a remarkable record that also includes a European Golden Shoe in 2015-16 after he netted 40 times in domestic competition. His other official Barcelona goals have come in the Copa del Rey (19), the Club World Cup (five) and the Spanish and European Super Cups (one in each).