BARCELONA
Messi is Sevilla's worst nightmare
Sevilla are Messi's favourite victim ahead of Atlético Madrid (29), Valencia (27), Real Madrid (26) and Espanyol (25) and the Argentine is yet to score this season.
The sight of Lionel Messi dribbling past a number of defenders late on against Inter Milan to set up Luis Suárez for the winner on Wednesday night must have sent a shiver down Sevilla fans' spines. The Argentine is back to full fitness and has yet to score this season after 210 minutes of action.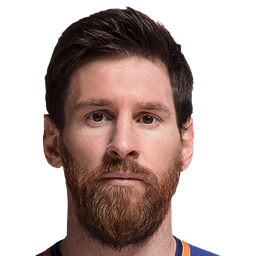 Having returned in perfect times to face Lopetegui's Sevilla, he comes up against the team he loves to play against the most. Messi has scored 36 goals in 37 games against them, enough for a goal every 61 minutes. 

They are his favourite opponent by a distance and has not scored against anyone more: Atlético de Madrid (29), Valencia (27), Real Madrid (26) and Espanyol (25) are his other preferred teams to line out against.
Sevilla still feel queasy when they think about his hat-trick last season at the Sánchez Pizjuán. They also rememeber his double in the European Super Cup to steal another title from their grasp. And he doesn't just score to win titles. He set up Alba and Neymar in the Copa del Rey 2016 final at the Vicente Calderón to foil them again. It was a hat-trick in November 2014 that saw Messi take the top spot in LaLiga goalscoring history too.
Lopetegui will try to put a stop to that. He couldn't at Real Madrid when the 5-1 at Camp Nou saw him receive his marching orders from Florentino Pérez. He did, however, get one over on Argentine when he managed Spain when they won 6-1 at the Wanda Metropolitano. Unfortunately for Loptegui, Messi was watching from the stands that night.
He will need a plan to stop Barcelona as a whole on Sunday night and another one entirely to stop Messi who is Sevilla's worst nightmare no matter the venue, the competition or the spoils.