Real Madrid: Hazard is finally Hazard
After scoring his first Real goal, Eden Hazard has taken a weight off his shoulders - and warded off the murmurs of discontent within the Bernabéu.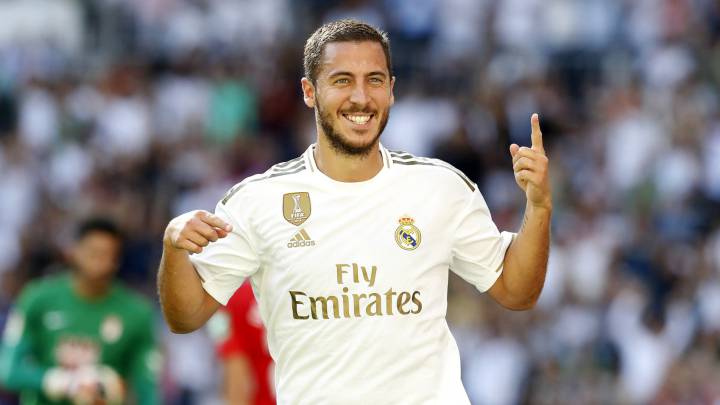 When the murmurs of displeasure start to make themselves heard at the Bernabéu, the players are on thin ice. In Saturday's league clash with Granada, the Real Madrid fans had grown increasingly restless with Eden Hazard, and had let him know more than once, making him the target of ominous groans that said he was just one step away from being whistled. The Belgian responded with the kind of strike that befits his star billing and will surely have got the fans right back on side.
"I wanted to do something special..."
Just like Peter Parker, Hazard has a sixth sense. A 'soccer sense' rather than a 'spider sense'. The Bernabéu is a tough stage for visitors and home players alike, and Madrid's new number seven knew a tap-in wouldn't do. He knew he needed to make a splash with his first goal for the club - and that it couldn't wait any longer.
Ahead of the Club Brugge game on Tuesday, the 28-year-old had conceded that Madrid were yet to see the real Eden Hazard, telling reporters: "People expect a lot from me, just as I do of myself - I can do better." However, he again failed to score as Los Blancos struggled to a 2-2 Champions League draw, and his attacking ineffectiveness was becoming an issue which, so to speak, was starting to weigh heavily.
"The shirt still doesn't quite fit," quipped Cadena SER's Antonio Romero, aiming a jab with the kind of subtlety that ex-Marseille and Bordeaux coach Rolland Courbis had foregone on French radio after Madrid's defeat to PSG. "Hazard was considered the steam engine driving the train," Courbis fumed on RMC. "But in reality, he is the last wagon on it. He arrived for pre-season six kilos overweight, it's obscene."
Hazard isn't immune to the criticism he has received. There was a half-hearted reposte a few weeks ago when he posted a six-pack photo on social media, but there was no getting away from how he has performed, particularly when you consider that, at this stage last term, he already had seven goals for Chelsea. "People were talking and I've heard a lot of things," he admitted on Real Madrid TV. "That's why it was important for me to score that goal. I wanted to do something special..."
It was a goal celebrated in Chamartín and, without a doubt, Hazard's home town of Braine-le-Comte, where his family runs the local football club, Stade Brunois, and where there is a museum dedicated to Hazard and his brother, Borussia Dortmund's Thorgan. They were expectant in Belgium, too. "With less pressure now on his shoulders and the Bernabéu at his feet, he has taken the first step torwards 'galáctico' status," HLN Nieuws said. "It'll be the first of many," Zinedine Zidane predicted. The steam engine is finally picking up speed.