Real Madrid: Colombia's James stays behind to win over Zidane
James Rodríguez will sit out Colombia's October friendlies against Chile and Algeria as he looks to prove himself to Real Madrid boss Zinedine Zidane.
Against Granada on Saturday, a late cameo was all it took for James Rodríguez to recapture the hearts of the Real Madrid fans once and for all. With victory in doubt, his goal brought relief to a nervous home crowd - and was a moment of pure release for the Colombian, who promptly whipped off his shirt with the furious abandon of someone who knows only too well how tough it is to win over the Bernabéu.
882 days later, James was back on the scoresheet for the club he'd always dreamed of joining; the club he had had to leave because, let's face it, love hurts sometimes; the club where he had business that he was determined to finish. James is back, and has no intention of merely making up the numbers.
Scepticism in Colombia over James' Real Madrid return
In Colombia, public opinion was largely against the idea of James, the nation's chief star along with Radamel Falcao, going back to Madrid. His previous experience with Zinedine Zidane, who had quickly relegated him to bit-part status at Los Blancos, led many to feel sceptical about his chances of success second time around.
And although James acquitted himself well in starts against Leganés and Sevilla, Zidane still hasn't been persuaded to make him a regular in his line-up.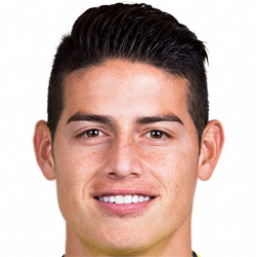 James turns down Colombia call to fight for Madrid place
Ahead of October friendlies against Chile and Algeria, Colombia coach Carlos Queiroz has summoned his players to Alicante - where the first of those clashes will be played - but James has opted against joining up with Los Cafeteros.
The indications are that he has asked Queiroz for time to continue the process of re-establishing himself at Madrid and to fight for that elusive starting spot on the Valdebebas training ground. It is a move that has sparked controversy in Colombia, with some asking: Are Madrid more important than the national team?
Madrid may be top of LaLiga, but it is still hard to fathom how there is no place in Zidane's XI for a player with James' intensity, precise passing and ability to link the play. In the coach's preferred 4-3-3 formation, the 28-year-old can easily fit in as one of the two midfielders operating either side of the anchorman (it's a role he has already fulfilled at Bayern). His work ethic and will to win will do the rest.
In Colombia, there is an eagerness to see James shine at the Bernabéu - but, given that injury meant he also sat out international week in September, his presence in La Selección is much missed. He has made his choice, though...