Ceballos: At Real Madrid I wasn't enjoying football, I'm happy at Arsenal
The Real Madrid loanee opened up about making the switch to Arsenal and said he has no regrets despite the injury woes Zidane has had in the centre of the pitch this season.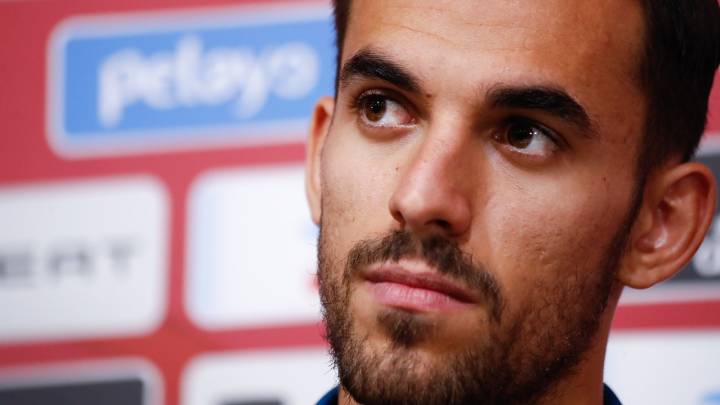 Dani Ceballos has returned to Madrid to join up with the Spain national squad ahead of their upcoming Euro 2020 qualifiers against Norway and Sweden.
At the team's training headquarters in Las Rozas, northwest of the Spanish capital, the Real Madrid midfielder spoke to the media about his summer loan switch to Arsenal, where he has quickly become a fan favourite on the back of some impressive performances.
Having struggled for prominence at the Bernabéu, the 23-year-old is now a regular starter for Gunners boss Unai Emery, with 11 games, one goal and two assists to his name so far this season.
Missing out in the Spain World Cup squad in 2018 was difficult for the Utrera-born player, and he revealed that part of his motivation to make a switch to London was the chance to make sure that didn't happen again for the upcoming Euro 2020.
"I knew the importance of this year, and the year before as being without minutes meant I missed a chance to be at the World Cup," said Ceballos.
"I knew that this year was important because the goal is to go to the European Championships. Going to Arsenal has been an important step in my career."
Adaption to the Premier League
The Premier League is a different, more physical animal than LaLiga, and the Spaniard has managed to adapt quickly. He explained that he is appreciating the opportunity to grow and develop in a more physical league – as his Madrid and Spain team mate Dani Carvajal had done so before him in the Bundesliga with Bayer Leverkusen.
"Whoever follows the Premiership sees that it is a different league, it is more physical. It is a good league for me because I can improve on a physical level," said the Arsenal midfielder.
"We've had ten match days, the coach is putting a lot of trust in me and the most important thing is that trust and repaying it on the pitch with good performances."
Ceballos: No regrets on leaving Real Madrid
With Real Madrid struggling in the centre of the pitch this season due to injuries, perhaps had Ceballos stayed, he may have had his chance to prove himself under Zinedine Zidane. Asked if he felt any regret for not being there to help out the team, Ceballos replied: "No, no. Madrid is pretty good. Yes, there have been many injuries but I don't feel sorry.
"I know what my goal is this year, I know what I have in my head and that was to play and enjoy my football. I am very happy at Arsenal. I played 10 games where I showed my best level. Now I am where I want to be.
"My idea was clear from the outset, go out, play, enjoy football because in the previous two years I had not done that and I have succeeded. Now, I am here [with the national squad]."
Ceballos: No undisputable starters for Spain
Should Ceballos maintain his performance levels at the Emirates Stadium, not only will he have put himself in contention for a place in Roberto Moreno's Euro 2020 squad, but perhaps to become a regular feature in the starting XI.
"Am I close to being an undisputed starter in the national team? Roberto has made it clear, there are no undisputed starters. There is so much competition that great players have been left out.
"The important thing is that in their two calls that have come, I am happy because of their confidence in me. At the moment that I lower the level or not play at my club, I will hardly be selected. My goal is to show you that I have quality to be in this team. For now things are going well."
Last summer Ceballos was an integral player in Spain's U-21 European Championship-winning side. Now the 23-year-old will no doubt envision playing a similar role in helping the senior team go all the way at the Euros next summer, after having had an impressive season at Arsenal.
If that happens, then Zidane will no longer to be able to ignore the Betis academy graduate when he makes his return to Madrid's Valdebebas training ground next summer.