James Rodríguez and his 'mini pre-season' preparations
The Colombian is taking advantage of not being called up for international duty and showing Zidane that he is fully committed to Los Blancos' cause.
James Rodríguez is completely focused on making a success of his second spell at Real Madrid and has responded to the confidence that the club has shown in him. Although Zinedine Zidane had appeared to have pushed him out of the picture for Los Blancos, the Colombian is proving himself to be an example of commitment and professionalism.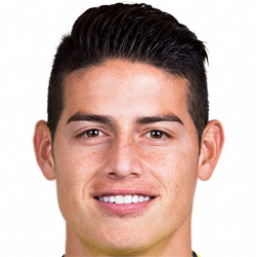 Re-focused James targets perfection
This total devotion to the cause was seen on Monday. With it being the start of the international break, everyone had been afforded the day off, but instead of taking it, James turned up at the Valdebebas training complex to train alone. The midfielder is taking advantage of the break in club matches to effectively create a mini pre-season for himself with a view to getting into tip-top shape.
The 28-year old missed most of the club's actual pre-season preparations as a decision had not been reached on whether or not he would return to play for them after his two-year loan to Bayern Munich. This lack of certainty resulted in him not being at the same level as his teammates. By not being called up by Carlos Queiroz, James is working on a specific plan over this week to be ready for the upcoming games against Real Mallorca, Galatasaray and then the biggest of the lot, El Clásico.
On Tuesday and Wednesday he was in the gym along the club's physiotherapists and other trainers with the idea to progressively increase the workload until he rejoins the group. All going well, he'll be in perfect condition to show Zidane and the fans what they've been missing.