Sergio Ramos: Spain's history-maker set for record 168th cap
The Real Madrid captain wants to play until he is 40, and has his sights set not only on the 2022 World Cup, but also next year's Tokyo Olympics.
Sergio Ramos, 33, wants to play until he is 40, following in the footsteps of one of his great heroes, Paolo Maldini. The Andalusian is making plans in stages. In the immediate future, he wants to overtake Iker Casillas' record haul of 167 Spain caps, a feat he is set to achieve against Norway tonight. In the short term, his attentions are on Real Madrid's Clásico against Barcelona on 26 October.
But his ambitions go far beyond this. Ramos is also out to renew his contract at Madrid, where he is club captain, play at Euro 2020 for Spain, represent his country at the Olympic Games together with Rafa Nadal and Pau Gasol, and make it to the 2022 World Cup in Qatar.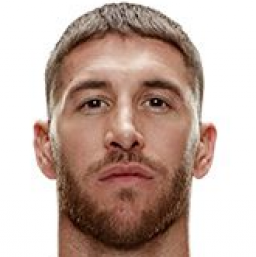 Manuel Sanchís, who was also a Real Madrid skipper and Spain international, believes that Ramos "is one of those players who can achieve whatever they set their heart on", adding: "He is in good enough physical shape thanks to the care he has taken of his body during his years as a professional, and is also a player who has avoided injury misfortune. Whatever Sergio Ramos sets his mind to is possible."
In a recent online advertising campaign for an American beer brand, Ramos himself reminded his social-media followers: "You should never give up on your dreams; that's the only way you'll make them come true." Quite the statement of intent. "He's a special player who the dressing room look at with respect and admiration," Spain coach Robert Moreno said this week.
His international team-mates also had words of praise for Ramos, with goalkeeper Kepa Arrizabalaga declaring that it is "a privilege to have a centre-back like Sergio in front of me - he's certainly one of the most respected players in his position in world football." Meanwhile, Sergio Reguilón, a Madrid youth product who has developed at the Bernabéu under Ramos' wing, said: "His career speaks for itself. It'll be very difficult to match him, because he breaks every record. He's an example to every young player coming through at the club."
RFEF planning Ramos record tribute event
The Spanish Football Federation (RFEF) are eager to put on a fitting celebration of Ramos' historic haul, with RFEF president Luis Rubiales keen on the idea of bringing together all of La Roja's centurions for a tribute event in the player's honour. "It's very hard to get them all in the same place at the same time," an RFEF source told AS, but the governing body are working hard to find a suitable a date.