Odegaard: Real Sociedad's on-loan Real Madrid man talks to AS
Real Madrid's Martin Odegaard, whose Norway side face Spain tonight, sat down with AS to reflect on his impressive start to life on loan at Real Sociedad.
We're speaking the day after Real Sociedad's 3-0 late-September win over Alavés, a game you finished at 11pm at night. What time did you end up sleeping?
I think about 3am, because after a game it's hard to sleep with all the adrenaline in the body and all the feelings.
Even though you played well. So if you had done not so well, perhaps it takes you longer to sleep. Do you think about the game a lot after?
Yeah I think about it a lot and I go through situations and I watch some clips. I have a lot of pictures in my head from the game, so it takes some time to get them out.
Do you play games or something to relax, or read or watch something?
I like to watch series. Yesterday I had my grandparents and my brother here, so we played a game, it's called Yahtzee. So yeah, I just try to relax, sometimes I read, sometimes I watch a movie, or sometimes I just chill in bed.
You are used to playing so late because you also played late games in the Netherlands. But here in Spain you go from playing at one in the afternoon to 10 at night. Is that affecting you in any way at all?
Yes, of course, it's different playing late than playing early, but I prefer to play late actually. I like to play in the dark. At night the atmosphere is different. So I prefer to play in the evenings but, of course, after the games, it's a bit difficult. But for football and for the game, I prefer the evening.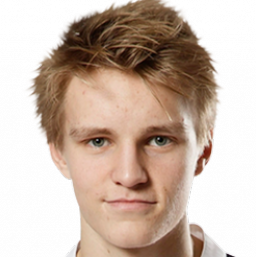 A couple of things happened in the Alavés game: one, a magnificent pass by you to set Mikel Oyarzabal up to score. Please describe to us what you saw. Take us through that assist.
Well, it all goes really quickly, so it's hard to describe. But it's just a moment when you see the space and you see the movement, and then you make the action. It all goes really quickly and you have to see it really fast. And the movement was good, and this space between the full-back and the centre-back is normally easy to attack for wingers. So I try to look for this space pretty often and yesterday it was a good moment, a good pass, and of course, a great run and a great finish.
I was presenting the ambassador's gala in Madrid at the same time as you were playing, and I got the clip of the pass and I showed it to Fernando Redondo, Julio Baptista, Luis García, Fernando Hierro and Xabi Prieto, and they all went: "What?!". Honestly, it was a reaction like when you see football for the first time. I guess you realise it was a magical moment.
Of course, you feel it when you do something special and against Alavés it was a special pass, and a special goal. It was a great moment and maybe my best assist ever. So of course you feel it and it made me happy. I think the whole team needed the first goal and it was easier for us afterwards. So it was the perfect moment.
There are players who say that when everything is going their way and everything is working, as a team, personally as well, they feel like they're floating on the pitch. Everything happens because you know it's going to happen; it's confidence, it's... Do you feel like that right now?
Yeah, I think so. I also feel it in games when things are going well and you feel like you can do everything. And yeah, I feel like I'm in a good moment. Sometimes you have games where when you get the ball you don't have a good feeling; you don't turn the right way because you're a little bit insecure. And then you have games that you just know that when you turn, you're going to be free. That happens sometimes and this feeling is the best feeling you can have. I just know when I get the ball that I will make it. And I had that feeling a few times against Alavés.
So right now, you feel that you are improving, you are learning and you keep talking about room for improvement. But praise – and I've spent 10 minutes praising you – can weaken you as well. Do you prefer not to listen when people say good things?
No, for me it's OK to hear it. That's how it's been since when I started. When I was 15 in Norway, I had a lot of attention; it was too much attention, maybe too positive. And then in Madrid there was a lot of negative attention, maybe too negative. So for me it's been a bit too black-and-white. For me it's been somewhere more in the middle. And for me it's the same at the moment. We've played six games, so we've done nothing yet. Of course, we've had a good start but for me the attention is a little bit crazy sometimes. But I'm used to it so it's easy to focus on the next day, the next training session, the next game and to keep improving. And that's the most important thing. When you play football, you can't think about what everybody else is saying.
I spoke with an old coach of yours at Castilla, Santiago Solari, who says he spent many more hours than you will ever know trying to improve you. There was a long list of things that they worked on, like self-awareness, self-reflection and confidence, because you were in a situation that was a bit different to what the rest of the team was used to. He loves watching you now because he sees a lot of the things that he put in without you realising – they're there. Do you recognise that?
Yeah, I remember the time when he was the coach and we had a good relationship. I remember he always told me to take responsibility and he helped me a lot. I think that moment was maybe my best moment in Castilla, when I started to score more goals. So yeah, I think we had a good connection. It's good to hear that he's happy now because I'm doing what he wants now.
He was pushing you, but at the same time protecting you, without wanting you to realise that. That must have been a strange period for you as well. It must have been a bit confusing...
Yeah, it was a bit difficult my time there in Castilla – training with the first team and playing with the second team. I was a little bit stuck in between and sometimes it was difficult to find my role in the team because when you are not with the team the whole time, it's different. Of course it was good to train with the first team, and I think that was important for my development. But it's never easy when you're not 100 percent part of the team. It was a bit difficult for me at that time but I also think it helped me a lot to improve and made me stronger mentally.
Now, you have been in different clubs and perhaps, with these two years in the Netherlands, first at Heerenveen, then at Vitesse Arnhem, you were looking for a loan deal where you could say: "Look I've learned a lot, I've gone through a lot, I need a place to rest and develop." Is that what you feel?
Exactly, I think it was good for me to go on loan. It's important to play and it's important to feel responsibility and feel like you're a part of the team. That's what I did in the Netherlands, first with Heerenveen. The first half year was a bit difficult because I came in the middle of the season. Then the second year was better for me and I felt more important for the team. I felt like I improved a lot. I had two injuries, two fractures in the foot, so it was a bit difficult again but then I went to Vitesse and I think it was a great season. The coach was really good for me; he gave me a lot of confidence and a lot of responsibilities. I think that is one of the most important things for young players – to deal with responsibility and to feel important.
After one year here and one year there, I wanted to get more stability. I think it was great for me to go on loan but it's difficult when you change the environment all the time. That's why I wanted to stay [at Real Sociedad] for two years and to relax a little bit, to settle a bit, to develop and to enjoy.
I see at Real Sociedad you're surrounded by Oyarzabal, Mikel Merino, Adnan Januzaj, Willian José, Alexander Isak... and I think: "Oh, of course, it had to be Real Sociedad". But was it such an easy decision?
Yeah, there were a lot of teams interested after last year. Last year, I spoke to the club and the coach, and when I came here to visit it was easy for me, because it felt so right; it felt like the perfect place. The football part and the people, the feeling around the club was just right for me. So in one way, of course, it was easy, but there were also a lot of other clubs interested so it's never easy to choose when you have good options. But the feeling was great, so it was a good choice.