Casemiro: "I lied about my position at my first trial"
The Real Madrid player revealed in an upcoming interview that he was a striker when he was on trial at Sao Paulo, "but we had a lot of those so..."
Casemiro is regarded as one of the finest defensive midfielders in the world but the Real Madrid player has revealed that he had to lie to get to where he is today after turning up at a trial at Sao Paulo when he was a youngster.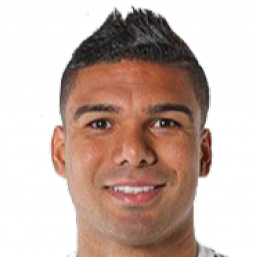 In an interview to be broadcast on Spanish television on Tuesday, the 27-year-old Brazil international recounted how he ended up playing in the position he is synonymous with now by accident. "When I went to the trial at Sau Paulo I was a forward," Casemiro said during his chat with former Real Madrid player and manager Jorge Valdano. "I was pretty strong, I was always the tallest player at that age and I used to score a lot of goals with my head."
Casemiro: "The coach told me; you're not a defensive midfielder"
"When I turned up, I was about 12 or 13 years old, there were about 300 players there and they were only going to choose 50. I remember very well that when the coach asked who were goalkeepers, three people put up their hands. Then he asked how many were forwards and 40 or so kids put their hands up and I said to myself, 'there's a lot of competition so I won't be a striker.' The same thing happened when they asked for midfielders and so I did the same. Then the coach said: 'Are there any defensive midfielders?' Seven or eight hands went up so I said to myself: 'Ok, I'm a defensive midfielder."
"I trained as a defensive midfielder during the trial and the coach pulled me aside and said: 'You're not a defensive midfielder, you came here as a forward.' But I kept insisting that I was and that's where it all started."
Casemiro went on to make 112 appearances for Sao Paulo and still retained an eye for goal, hitting 11 for the Brazilian side before moving to Real Madrid in 2012, where he has scored 20 in 204 games in all competitions.