REAL MADRID
Real Madrid: Leganés paid a fine for not playing Lunin last season
The Ukrainian goalkeeper has told Football Hub that nobody knew Navas was going to leave during the summer and speaks about his Valladolid loan.
Real Madrid signed Anriy Lunin in June 2018 as a long-term project to solve their goalkeeping instability. The Ukrainian signed for six season and was loaned out to Leganés last year. Carlos Cuéllar kept his starting spot though and Lunin only played in six games. The 20-year-old has told Football Hub, a Ukrainian publication that the LaLiga side paid a fine for not playing him last season.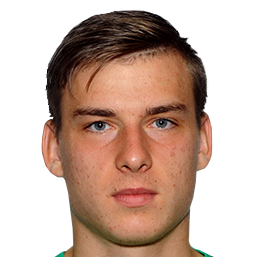 "Something was written into my contract with Leganés about my minutes with the club," he said. "But I don't know exactly what it was. I do know that Leganés paid a fine to Real Madrid. It's necessary to work, and the efforts are always repaid."
Real Madrid did not achieve what they set out to do during Lunin's first year of adaptation in Spain. They were counting on him this summer when it seemed sure that Keylor Navas would be leaving. The plan was to have him back up Thibaut Courtois but when Navas did a u-turn and told the club he was staying, Lunin needed somewhere to go.
Lunin left for Valladolid before Navas decided his future
Real Valladolid came knocking for Lunin and they loaned him out to the Ronaldo-owned side and another opportunity arose for the goalkeeper to earn playing time. Navas eventually left for PSG as the window wound down and Madrid were left with no back-up.
"Nobody knew that Keylor Navas would leave Madrid," Lunin said in the same interview. "I would have had the opportunity to stay in the team."
Despite that fact that the Costa Rican left him slightly high and dry, he has nothing but praise for his former teammate. "Keylor's attitude helped me feel more comfortable in the team. During lunch, dinner, travelling togehter we spoke and it helped me. In training too, we were close by and he would ask me about my situation, I am really pleased with the way Keylor was with me."
After winning the Golden Glove at the under-20 World Cup during the summer, he returned to Madrid and left for Valladolid where, he says: "They play at such a high level, the speed of training is very difficult but for my development, it's really good."