0

2
Fati makes Spain U-21 debut as 'La Rojita' see off Montenegro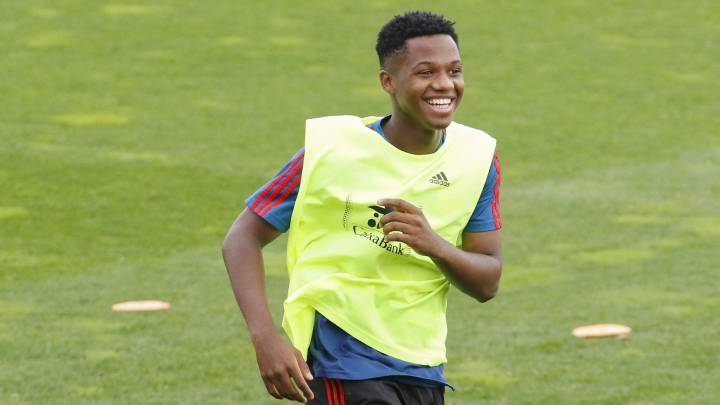 Montenegro U-21 vs Spain U-21 - live online
A comfortable win for Luis de la Fuente's young side in Podgorica saw the Barcelona teenager make his Spain debut.
Goals in either half from Aitor Buñuel and Marc Cucarella were enough to maintain "La Rojita's" 100% win.
Next up in the Euro 2021 qualifying stage is a home game in Alcorcon against North Macedonia.
All over in Podgorica ..Spain win in convincing style....
Call for a penalty on Fati but the Turkish ref. waves play on... Fati has a chance but blasts at the keeper.
Spain v North Macedonia next up for La Rojita in November (the game taking place in Alcorcon)
3 minutes of added time here in Podgorica.

The 16-year-old is certainly one of the major names of the season to date.... A hugely, hugely promising talent.
Fati almost squeezes into the box but sees the ball cleared from his feet by a man in red. A bright start for the teenager who has been given limited time to showcase his skills.
Spain looking good with their start to secure an automatic tickets for Euro 2021 in Hungary-Slovenia with a 100% record of 3 wins in three
Yet another (the last if I'm not mistaken) change for the home side - Grubac (in) - Marković (out) (Montenegro).
Fati finds Gomez but the Tenerife man over hits his first touch and the ball rolls out of play.
Into the last ten we go. Montenegro have offered little in this half to be fair and have never really looked like scoring.
10 minutes for the Barcelona man to make an impression.
Fati is getting ready and poised to make his Spain debut with the U-21 side. The Barcelona player will be the second youngest to make his debut (Bojan being the youngest).
Dani Martin in the Spain goal has been a virtual spectator in this second half.
Into the final 15' with Spain in complete control as the clock ticks down.
Possession after 70': Montenegro 30%-70% Spain
Change for the home side: Milic off - Banocvic on
Change for the home side: Milic off - Banocvic on
Pozo on and Andres Martin off
Two changes for the moment
Pozo on and Andres Martin off
Gomez off-Ferran Torres on
Spain poised to make two more changes, Fati not one of the two...
Ansu Fati warming up on the Spain touchline...will we see a entrance from the teenager?
Kristovic finds himself in space and tries his luck from long range... poor effort from the striker
Great assist from Villar finding the Getafe man who slots home with his left foot. A delightful move from "La Rojita".
An hour gone in Montenegro. Spain in charge but the home still side far from out of the contest.
Beltran off for Spain with Elche's Gonzalo Villar his replacement.
5 substitutes can be made in this competition but the play can only be held up to do so on three occasions.
Vučićević (in) - Vukotić (out) (Montenegro).
S. Krstović (in) - Stijepović (out) (Montenegro).
Cucurella with a great chance to make it two for Spain but the Getafe man rifles the ball at a red shirt. Spain in the ascendancy here as Montenegro are poised to make two changes.

Spain coach De la Fuente barking orders to his charges from the dugout
Dani Olmo tries a speculative long range effort but fails to get sufficuient bend on the ball as its drifts over and wide.
Spain win a dangerous free kick after Martin is impeded. The Rayo player to take... opts to play the ball backwards and the move loses its impetus.
Spain have three warming up on the touchline but sadly for Fati fans, the Barcelona teenager is not one of the three.
No movement from Spain as we're underway again in Podgorica
No 17 Kordic on for Skenderović (change for Montenegro at the break)
A short break and we'll be back with the second 45'.
The whistle sounds bringing an end to the first 45'. Spain ahead 1-0
One minute of time to be added.
Edging towards the half time whistle here in Podgorica in what has been a bright and entertaining half with a Aitor Buñuel goal putting Spain ahead.
Vukotić shoots after good build up play from Montenegro. Fortunately for Spain, the Benfica 'B' striker fires his shot over the bar.
Spain playing now with a swagger after securing the opening goal as Dani Olmo tries his luck from long range.
Spain move top of Group 6 as things stand with nine points from three games.
Goooooooooooooollllll. Aitor Buñuel nods Spain into the lead with the Racing player nodding in a Lozano assist.
Beltran launches a rasping right footed drive which zips inches wide of the Montenegro post.
Meris Skenderović with a rash challenge on Marc Cucurella and the Carl Zeiss Jena player is awarded a yellow for his action.
Spain faced Montenegro back in September winning 2-0
Apart from an early opening flurry, Spain have been quiet in front of goal with the Montenegro side enjoying more possession in the Spanish half. Montenegro 3-0 ahead on corner kicks.
Stijepović does well to win a corner but once again Montenegro fail to create any danger from the deal ball situation.
Miloš Drinčić carded too for Montenegro.
Card for Montemegro as Cucurella is elbowed with Obradović carded
The ball falls to Aitor Buñuel on the edge of the Montenegro box but the Racing Santander player fails to secure control and drives the ball high and wide.
Spain having the better of the early action with Dani Martin in the Spain goal yet to be really tested.
Nikola Krstović takes a knock and needs to receive attention from the medical staff.
The home side win the first corner of the evening. No problem for Dani Martin as the keeper catches the ball with no problems for the U-21 defence.
Rayo's Andres Martin strikes again but fails to get purchase in his left footed effort and the ball fizzes wide of Dukic's goal.
Cucurella goes close zipping the ball into the side netting
Bright start from Spain as Marc Cucurella does well as Andres Martin almost puts Spain ahead with two fine saves from Dukic.
Halil Umut Meler (Turkey) is our man in black tonight.
Spain get us underway in Podgorica....
Nikola Krstović (Red Star Belgrade) the player to watch for the home side.
A mild evening in the capital of Montenegro with 20C .... perfect playing conditions for players and fans alike.
Montenegro in all red with the visitors in their away light blue effort.
We're live in Podgorica ... What can the current Euro 21 holders deliver against Montenegro?
Looking forward to seeing Marc Cucurella and Celta's Fran Beltran in action. "Cucu" was excellent with Eibar last season and Beltran a metronome in the Rayo Vallecano centre of the pitch before moving to Vigo.
The 2021 competition will be staged in Hungary & Slovenia running from June 13-27.

Here's how Group 6 table looks ahead of tonight's game

The team-sheet is in for tonight's game and as anticipated Fati starts on the bench.
The action in Podgorica gets underway at 18:45 CEST.
Hello and welcome to our live coverage as Montenegro U-21 face Spain U-21 as part of the qualification process for the 2021 European Championship.
.