BARCELONA
Griezmann's heatmaps show his positional problem at Barcelona
The areas he occupies with France are completely different to those at Barcelona as the debate remains open about how he fits in at the club.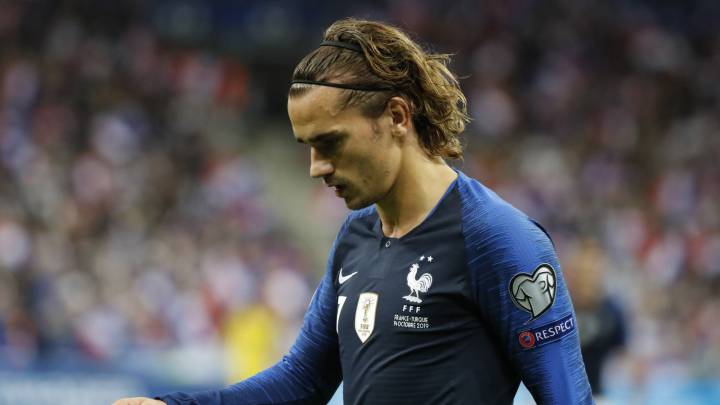 Antoine Griezmann's return to France duty served as a reminder of the differrence between his role under Didier Deschamps and at Barcelona under Ernesto Valverde. An image that popped up on Twitter via Albert Ortega (@AlbertOrtegaES1) that (see image) shows the attacker's heatmaps during two recent games with either side.
The freedom offered to Griezmann under Deschamps is stark compared to his limited rule tucked way on the left at Barcelona. Griezmann is a leader in the French team and the heatmaps show the very clear influence Messi has on certain areas of the field. Their connection hasn't been great either with Arturo Vidal also admitting that the French attacker's integration into the team hasn't been easy.
Where Griezmann was going to fit in was asked before he moved to Barcelona. He played as the second striker at Atlético, coming in off the left and occupying straying all around the attack. With France, he has a similar role. It was never going to be easy finding an ideal role at Barcelona especially with Messi playing a very similar role and with Suárez nailed on as the starting striker.
Valverde has tried to solve the problem by putting Griezmann on the left even when Messi was not available due to injury. The idea was not to confuse things and to make it clear that his role is on the left of the 4-3-3, Coutinho's former position. Only if Valverde plays more of a 4-2-3-1 will he have the chance to adapt his position and the areas he occupies.
Griezmann has tried to put on a brave face when asked about his best position. "Good question," he said half-jokingly when asked. It's obvious that he wants to be more involved and to increase the areas of the field that he takes up.
Dembélé was available for the Sevilla game and he took his position. But the availability of Jordi Alba might see a spot open up for Griezmann again as he drifts inside to free up that left-hand side for the left-back. For not though, the debate remains open as to where Griezmann fits at Barcelona.