Real Madrid: Rodrygo, Vinicius wanted by Brazil in January
The Real Madrid pair could miss almost a month if the CBF successfully petitions FIFA to force clubs to release players for non-official tournaments.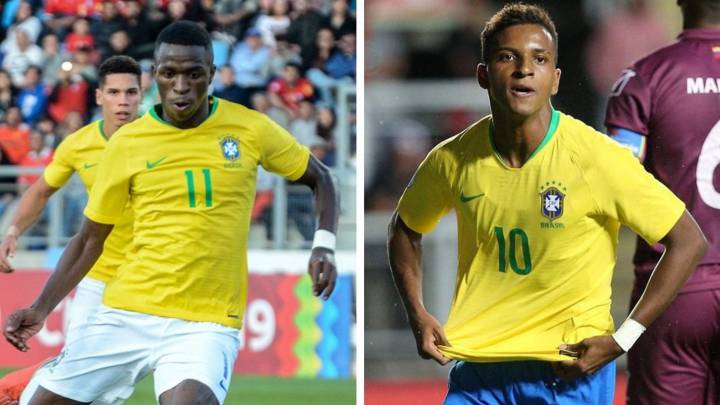 The Brazilian Football Confederation (CBF) is prepared to go to whatever lengths necessary to ensure that Real Madrid forwards Vinicius Junior and Rodrygo are made available for the under-23 side that will contest the 2020 CONMEBOL Pre-Olympic Tournament in Colombia, which could mean the pair miss almost a month of the European season.
The tournament, which will decide the two South American places in the draw at Tokyo 2020 from a qualifying round featuring 10 nations, will be held between 18 January and 9 February, 2020, with those called up expected to arrive well before the first game kicks off.
The CBF has its tail up after being refused permission by Flamengo to call up one of the under-17 side's biggest stars, Reinier, for the World Cup in Brazil this month, accusing the Rio-based club of ignoring a "gentlemen's agreement" for the midfielder to be released.
Brazil to petition FIFA over Olympic qualifiers
Unlike their Brazilian counterparts, Spanish sides are obliged by FIFA statutes to release players for international duty but the CBF is expecting resistance from Madrid given that the Pre-Olympic tournament is not an official FIFA competition. In light of this, the CBF plans to petition the world governing body at the upcoming FIFA Congress in Shanghai (23-24 October) to force clubs to release players for friendlies and junior tournaments that fall outside FIFA's remit.
While there is support for the CBF's proposal, the length of time it will take to pass through various committees before being written into the regulations makes it unlikely to be approved in time for Real Madrid to be forced into allowing Rodrygo and Vinicius to travel.
The two youngsters may be of a mind to push for a place in the squad with Olympic glory to tempt them but the CBF are unlikely to be able to ensure the presence of one or both without reaching another gentleman's agreement with the Bernabéu board before they name their squad for Colombia.