BARCELONA
Barcelona trio come to life: 13 goals between them so far
Suárez has scored seven, Griezmann four and Messi two as they start to find their feet and against Eibar on Saturday it was evident that they are coming along fine.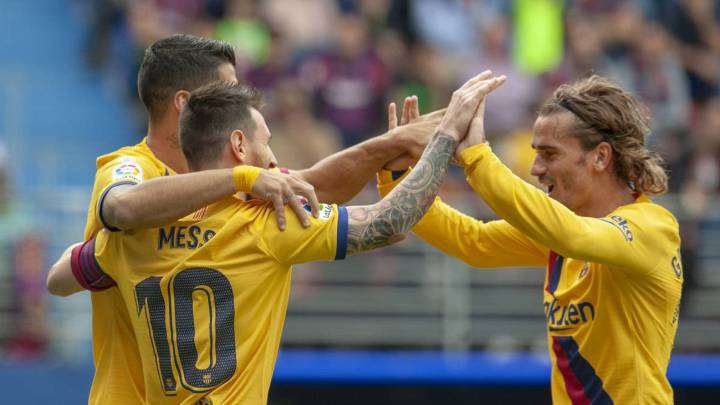 The new trio of Messi-Suárez-Griezmann was questioned at the start of their partnership and with good reason. They had only played 187 minutes. But there was something about their connection on the field that left you with the feeling that there was something missing. Beyond the measly two goals they had scored on the field together. There was a rush to judge by fans and critics but Valverde fanned the frames by leaving Griezmann on the bench against Sevilla. He hailed them after the Eibar game though.
The explosion of MSG at Ipurua on Saturday, however, has changed all that. At least, we can look at the number in a different manner with 13 goals scored in 25 games cumulitavely. Griezmann has scored four in ten, Suárez, seven in nine and now Messi has scored two in three goals and given three assists too.
They are not the numbers of the Three Amigos (the name given to Suárez, Neymar and Messi in the English press), who managed to net 131 goals together. But for right now, they serve to quiet talk of a fracture in Messi and Griezmann's relationship. Griezmann showed in Eibar that he is a player of instinct and one who can read the play to see what exactly he has to do.
Breaking free for the first goal, his quality to Messi for the second and his vision for the third were all on display. Playing out on the left and too left with too little to do, things changed on Saturday. There was too much talk that Griezmann had no role at Barcelona, much like the criticism of Suarez at the start of the season - he has now scored against Getafe, Inter, Sevilla and Eibar. With Messi, there is no such talk.
They asked for time as the three figured out how to understand each other on the field. It's understandable with three of the best in the world. On Saturday, we saw signs of things to come as they continue to learn each other's movements.