Florin Andone: "Football is a matter of life and death for fans in Turkey"
The Romanian striker has played four games for Galatasaray: "I've played in England and Spain but I've never seen anything like the atmosphere here".
My life has been anything but simple. I came to Spain when I was 12. My father passed away when I was 10 and my mother remarried. After three years in Spain, I started out with Vinaroz (Castellón), some scouts came to watch me and then I had a trial with Castellón. While I was with the Under-19s I signed for Villarreal, then I was loaned out to Atlético Baleares in the Second Division B and from there I joined Córdoba, who gave me the chance to play in the first division. They liked me and I really loved it there. That's where it all started for me. I have a tattoo with 5 January 2015 - the day I made my debut, with my squad number (28) and the name of the city Córdoba.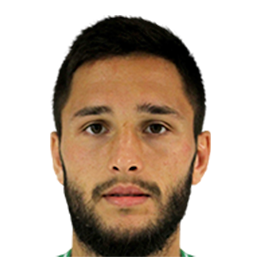 Andone: good memories of Córdoba and some not so good ones
You have been quite vocal about your problems with the board At Córdoba…
There are a lot of false people in the world of football. But I always speak my mind, and that can get you a reputation for being problematic. But how many people think the same as me but don't dare say anything? I have always tried to be sincere.
The atmosphere at football matches in Turkey is brutal, like entering the lion's den...
I've played in Spain, in England, at some really beautiful stadiums and at big events with the national team… and I've played just four games with Galatasaray but I've never witnessed anything like the atmosphere here. For people here in Turkey, football is a matter of life and death. Here, Galatasaray is like Real Madrid or Barcelona. When we are on our way to the stadium, they bang the sides of the team bus to get us fired up, and they light flares. There's a lot of pressure… Not just for the team we are facing but for us too...
Galatasaray, fifth in the table with three wins from eight
Galatasaray go into tomorrow's game after a poor run of results...
We'd gone five games without a win and were starting to be questioned. We won the other day, and suffered right up to the end against Sivasspor. They equalised in the second half after having a man sent off… the level demanded here is very high.
Madrid have hardly been setting the world alight either...
During the past year they haven't looked like the Madrid who won three Champions Leagues. There's having difficulties but they are still one of the best teams around, if not the best team in the world, although without Cristiano they are not as effective. We're not afraid of them. We respect them - of course, very much but we also think we can beat them, or at least hold them to a draw. We're at home with our people behind us. What have we got to lose?
Andone is convinced Eden Hazard will come good
You mentioned Cristiano, what about Hazard. What's going on with him?
I watched him playing in the Premier League. He was unbelievable, an amazing player. The presence he had out on the pitch and the respect he had from rivals. Maybe they expect him to score five goals in every game, but I think as soon as he's comfortable he's going to take off. He's got quality to spare.
Andone's difficult start with Brighton
I was misquoted - I'd like to clear things up. The season I spent there didn't turn out as I had hoped. I felt that they didn't have much faith in me - I wasn't in the starting line-up for more than two games running. I'm not asking or expecting to play every game, because I'm not a football superstar, but I only want regular playing time. I began to doubt myself, to question my own capabilities, and if I was really at the level required for the Premier League… I felt quite dejected. It's not that I don't want to go back, I have great respect for Brighton, they signed me on a six-year deal and they're worried about me. I just want to feel like a footballer. That begins with getting myself back to my best and being happy.