Suárez fails to end four-year curse in Prague
The Barcelona striker had hoped to channel his current goal-scoring momentum to bring an end to an embarrassing four-year streak against Slavia Prague on Wednesday.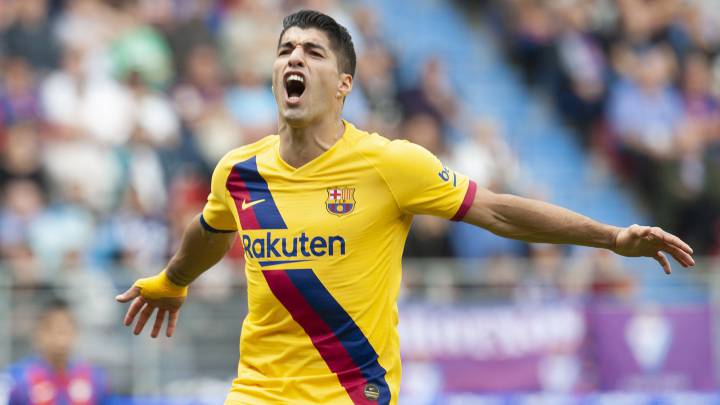 Luis Suarez is currently Barcelona's most leading goalscorer with seven goals so far this season in all competitions – well above Antoine Griezmann's four goals and the two of Lionel Messi.
On Wednesday night against Slavia Prague, the Uruguayan striker had hoped to channel his current goal-scoring momentum to bring an end to a curse that has left him without an away goal in the Champion League for more than four years. Alas for Suárez he finished the night without breaking his drought.
After 55 minutes of the Group F tie it looked as if Suárez had bundled the ball home, but the goal had in fact come off the chest of Slavia Prague number nine Olayinka, who was credited with the own-goal.
Suárez's last European away goal
The last time the 32-year-old managed a goal away in Europe was on September 16, 2015 in a 1-1 tie against Roma at the Stadio Olimpico. Since then, Suárez has played 20 European away games without getting on the scoresheet. While he has been far less potent in the Champions League than in LaLiga in recent seasons, this goalless streak is still incredible for a player of his goal-scoring prowess.
Suárez becomes Barca's fourth highest goalscorer
Everything before the match appeared to indicate that the Uruguayan international could finally bring an end to the embarrassing streak that has now been dragging on four years, one month and eight days.
The Blaugrana's top scorer netted a brace in the last fixture at Camp Nou against Inter Milan, meaning he already has the same number of goals that he has managed in the competition in the past two seasons combined (one each in 2017/18 and 2019/20).
Suárez's brilliant start to the season has helped to lift him to the position of fourth top scorer in Barcelona's history with 184 goals. He was unable, however to score his 185th against Slavia Prague, and thus fails to avoid the embarrassing 1,500-day landmark without an away goal in Europe. Today was day 1,498.