Napoli waiting on Ibrahimovic
The chairman of the Italian club, Aurelio De Laurentiis, says the move depends on the big Swede, currently with LA Galaxy.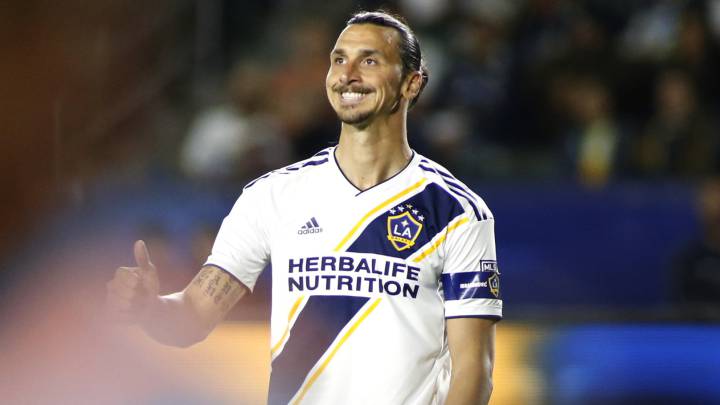 Zlatan Ibrahimovic and Napoli continue to flirt. The Swedish striker has long been known to want an affair with the Italian club. Since 2005 no less, when he first visited the San Paolo Stadium, on the occasion of Ciro Ferrara's testimonial, when Maradona returned to the fervour of 70,000 fans.
Zlatan's Napoli dream
"Some day I'll play here", said Ibrahimovic to his friends, an idea he repeated just a few days ago to 'La Gazzetta dello Sport': "I loved the recent documentary about Maradona. All the love this city had for him makes me want to try Napoli. It would be incredible to do what Diego did. The final decision depends on various factors, but I'm excited about it. If I were there, San Paolo would be full every Sunday. And Ancelotti, another great, is there".
The presence of Carletto, in fact, could be decisive. Ibra has always held him up as the best coach he's worked with, and they have a deep friendship. The coach, with a smile, after their win over Verona on Saturday said he'd be waiting for a phone call in January. And today, the Napoli chairman Aurelio De Laurentiis, in Salzburg, also spoke about the possibility.
Zlatan to Napoli...
"Ibrahimovic is a friend", said the president. "I met him in Los Angeles not as a footballer but as a normal person because we were in the same hotel. "I invited him over for dinner with his wife and kids and we had an amazing time. It would be my wish to see him in Napoli colours. It's more than a suggestion and it depends on him. It's been talked about for a few months now."
The forward, now 38, will be a free agent in January and able to choose what will almost certainly be his final team. Napoli is a real option, but the club would need to make room for him, which wouldn't be entirely easy, with Milik, Llorente and Mertens all competing for his position.
De Laurentiis, though, has been strengthening his relationships with Mino Raiola, Ibra's agent, over the past few months. The dream does look difficult... but not impossible.