BARCELONA
Barcelona's running stats against Slavia make for sorry reading
Of the 32 teams competing this week in the Champions League, Barcelona covered the least ground while Atlético's opponents had the highest total.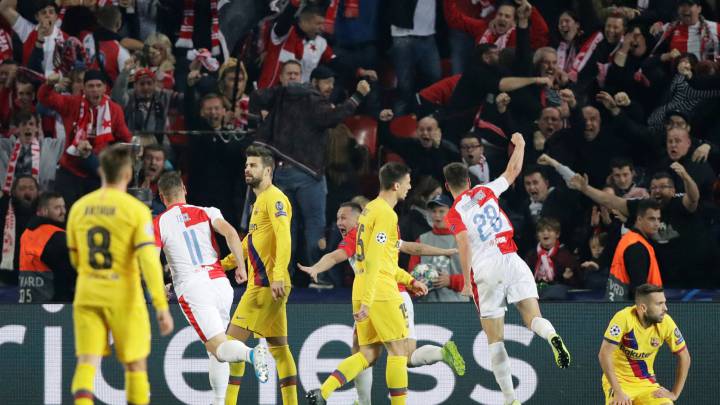 Ernesto Valverde's Barcelona seem to be taking after Carles Rexach when it comes to defensive duties. The former Barça player and manager was often criticized for his laissez-faire attitude towards hard work. "Running is for cowards," he used to say.
That's the only way to understand Barcelona's statistics on Wednesday night as they ran out 1-2 winners against Slavia Prague thanks to a second half own goal. They ran less than the other 31 teams in the Champions League during this round of games. They accumulated 100.4 kilometres during the game against their Czech rivals, who themselves clocked up 115.2 km.
The leaders in kilometres ran this week were Bayer Leverkusen. In their clash against Atlético Madrid at the Wanda, which they lost 1-0, they ran 121.1 km. That's 21 more than Barcelona. And Simeone's side nearly matched them in third place with 117.2 km. Valencia, during their draw with Lille, clocked 108.7 km and Real Madrid ran 107.4 km during their 0-1 win over Galatasaray.
Prague like wolves, Barcelona couldn't match them
For Barcelona, their most active player was Frenkie de Jong, who ran 11.4 kilometres with Jordi Alba second on the list with 10.6 km. Valverde said Slavia "were like wolves" but his side couldn't and didn't want to match them.
To put that into context, De Jong was the player with the fourth highest distance covered after three Slavia Prague players. Servik led the list with 13.8 km.
Ter Stegen said Barcelona have to sit down and figure a few things out after the game. The first thing is clear: their opponents are more intense and cover more ground than them.