LALIGA
Referees not 'favouring' Real Madrid or Barcelona anymore
Referees have been accused of helping the Clásico sides in the past but they have both been shown three red cards which is the most in the league.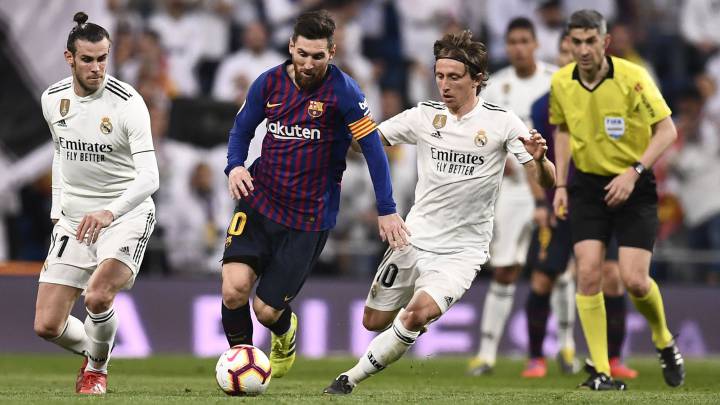 Real Madrid and Barcelona are both mired in complicated starts to their domestic campaigns. They have dropped nine and eight points respectively and the referees haven't necessarily helped them. Referees have been accused of helping the teams in the past but this seasons they have been punished more harshly than in previous years.
Getafe are the team with most yellows in LaLiga with 32, but referees have cracked down on Barcelona protesting towards referees. They have received seven bookings for this while Real Madrid have been warned just once.
Valverde's side also sit atop the red card table too with three alongside Real Madrid and Real Betis. Araujo, Dembélé (in the same game) and Lenglet have been sent off for the league leaders while Modric, Bale and Odriozola have seen red for Zidane's side. For Betis, Joel Robles, William Carvalho and Loren have been sent off for Betis.
No penalties for Real Madrid and Barcelona
Another are where neither of the big two have seen any special treatment from the referees has been with penalties. Real Madrd, Barcelona, Espanyol and Sevilla are the only four teams who have not been awarded a penalty yet this season. On the other side, Valencia have been whistled five times in the box.
And finally, the big talking point, is the performance of VAR and its deployers. It has intervened more times against Real Madrid and Barcelona than against them. For Valverde's side, VAR has stuck its nose in twice with the first coming for a Gameiro goal against Valencia, which was initially ruled out for offside. The second came for a penalty on a Vidal handball againsr Granada which consigned them to defeat late on.
VAR has intervened four times against Real Madrid. The first was to disallow a goal by Brais after Aspas was ruled out for offside. In the same game, Modric was sent off after a VAR review for standing on Denis Suárez' heel. The other came against Villarreal when Gerard Moreno scored and saved a point for the home side and then against Osasuna to disallow a goal by Jovic for offside.