Lionel Messi: "Ronaldo is the greatest striker I ever saw"
The Barcelona and Argentina forward sat down with TyC Sports to give his view on VAR, strike partners, his return from injury and his future dreams.
With El Clásico being postponed this weekend, Lionel Messi spoke with TyC Sports giving insights on World Cup dreams (in an advance), how the VAR system was working in practice, his favourite players and much more. Here are some of the highlights of that conversation with the Barcelona and Argentina talisman.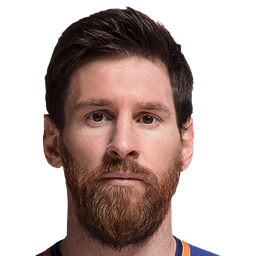 Messi on VAR
"I like VAR if it is used well. What I don't like is that it was brought in to clear up doubts, but it is still not doing that.
"In the end, they [the decisions] are still determined by the referee, or another referee in the box, and are not based on what is really happening in the move. It's a very good thing but is not being well used."
Messi on his current physical condition
"I first arrived and started by training really hard, which I shouldn't have done. I had been out for a full month and I came back and trained as if I had been doing so for some time.
"After that I had a relapse, thinking it was one thing and then another. But now that's over. I feel strong again and little by little I'm finding my rhythm."
Messi on his first goal for Barcelona
"The ball didn't settle, it bounced off a defender, then I touched it back to Ronaldinho and I waited.
"He lifted it over to me, and I lobbed the goalkeeper. I liked the similiar one that was ruled out earlier [for offside]. That annoyed me into action."
Messi on strike partners
"Rondaldinho helped me a lot. I came into the dressing room at 16-17 years of age, seeing all those footballing giants made it tough.
"But he mentored me and made me feel comfortable, and I loosened up. Afterwards on the pitch, I always looked for him but we didn't have many years to enjoy together. Besides, we didn't play as much at that time. I would have liked to play more with Ronaldinho."
"I have played five years with Luis Suárez. Playing every 3 days, you get used to each other and play by heart. We have children of the same age, spend our lives together every day, and the relationship is growing ever stronger."
Messi on the best ever striker
"Ronaldo [Nazario] was a phenomenon, Of all the strikers I ever saw, he was the best. He was unbelievable."
Messi on future and retirement
"I don't want to leave here. I can't think of moving away from Barcelona. I have a dream of being able to play at Newell's, in Argentine football, but I don't know if it will happen. I have a family and they come before my own desires."