Atlanta United already among world's 10 best-supported clubs
A club who are only in their third season in Major League Soccer, Atlanta United have been a success story both on the pitch and in the stands.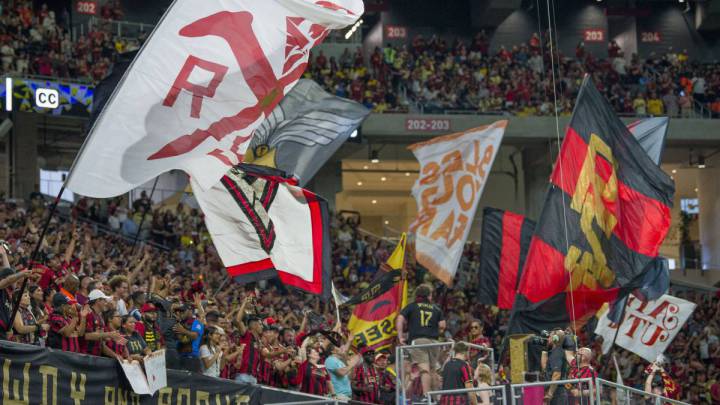 In just their third season as a Major League Soccer franchise, Atlanta United are not only in contention to win what would already be their second American soccer title, but are pulling in attendances to rival Europe's best-supported clubs.
Atlanta crowds higher than most Champions League clubs
Quoting statistics compiled by the CIES Football Observatory between 2013 and 2018, World Football Summit notes that Atlanta have the 10th-highest attendance figures in global club football, with their 51,547 average gate - the biggest outside of Europe - putting them in a leading group occupied by century-old powerhouses such as Real Madrid, Manchester United and Bayern Munich.
Indeed, the average crowd boasted by the Five Stripes - who, on their way to winning the 2018 MLS Cup, registered no fewer than eight attendances of over 70,000 at their stunning Mercedes-Benz Stadium last year - beats 28 of the 32 teams in this term's Champions League group stage.
Atlanta "one of the great stories" in MLS history
"It really is quite incredible to think that a club that's only in its third season, in America which has traditionally been thought of as not a soccer country, could be pulling those types of crowds," Atlanta president Darren Eales told the 2019 World Football Summit in Madrid in September.
Described by MLS commissioner Don Garber as "one of the great stories in the history of our league", Atlanta face Toronto FC in Wednesday's Eastern Conference final, with the victors progressing to November's MLS Cup final against either Los Angeles FC or Seattle Sounders.
MLS the world's eighth-best attended league
Atlanta's meteoric rise since they joined MLS in 2017 comes against the backdrop of the competition's impressive overall growth, WFS also points out, with a 34% increase in attendances since 2013 now making the American league the eighth-best attended in the world.
What's more, the rising enthusiasm for football in the States is illustrated by a 2018 Gallup poll that showed a 4% increase in the number of Americans who see soccer as their favourite sport, coupled with a decrease in respondents who chose traditional US games such as American football, basketball and baseball.