REAL MADRID
Casemiro on Bale: "I don't care what he does off the field"
Casemiro was interviewed after the Leganés game and he spoke about the battle between Vinicius and Rodrygo and about Gareth Bale's situation.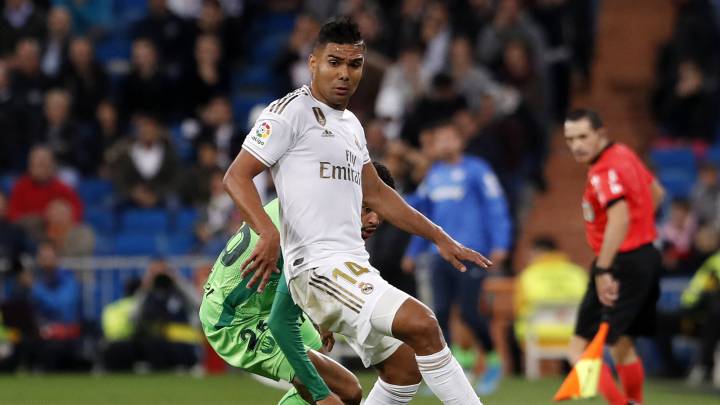 Casemiro spoke in the mixed zone after Real Madrid's victory over Leganés at the Santiago Bernabéu on Wednesday night. He was asked about Rodrygo's role in the team and Bale's extra-curricular activity.
On being indispensible: "I played the minutes that the manager asks me to. I am in my best moment and I am enjoy playing football a lot. The manage and technical staff know the moment when I need to rest."
On Gareth Bale: "The manager said yesterday that he had permission from the club [to go to London]. We just know that he is really important for us. If you ask us, we will talk about the quality he has and about how well he was playing before the injury."
Rodrygo and his rivalry with Vinicius: "He is young. We can't put too much pressure on him. He's only 18 and this competition between them is important for the club. They have to fight for their place. Last year, Vinicius was one of our best player and this year, Rodrygo is playing really well."
How did Vinicius go from 100 to 0? "It's unfair to say he has gone from 100 to 0. Last year, along with Benzema, he was our best player. Vinicius is 19 years old. We can't put too much pressure on him. We can't put the label of star player on him. They have shown they can be important."
Playing alongside Valverde: "I already said in an interview that in two years he will be one of the best number 8s in the world, I think I rushed it a little. He is playing phenomenal, you have to enjoy it by his side because he is a great player."
Is patience up with Bale? Zidane said he was going to leave...: "He is a great player. Bale was going to China...the whole world was talking about someone was going to leave. Gareth is a great player."
Does it annoy you that he goes to play golf while you are playing a game? "What people do off the field doesn't bother me. Before he got injured, he was one of the best player on the field and that's what's important."