REAL MADRID
Rodrygo: "When I met Zidane I was shaking"
The Brazilian did an interview with 'Esporte Interativo' before and spoke about his relationship with Zidane, Vinicius, Neymar and Casemiro.
Rodrygo, Real Madrid's rising star, has given an interview to Esporte Interativo before the Leganés game in which he shone. The teenager talked about his good relationship with Vinicius, the possibility of crossing paths with Neymar in the Champions League and meeting Zinedine Zidane.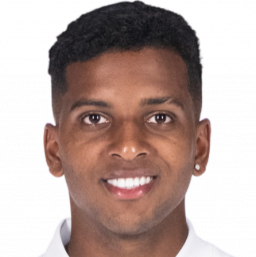 Marvellous week. Starter in the Champions League, called up by Brazil and a goal in your debut at the Bernabéu. How do you feel?
"Too happy, impossible. I have achieved a dream. For me, it would be good to play some minutes but Zidane made me a starter. It's impossible to have a more beautiful week. I think that I took advantage of the opportunity and being called by Tite says it all."
How do you deal with the competition with Vinicius?
"The same way I do with the rest of the squad. It is a healthy competition. Vini and I are good friends, teammates, and we don't talk about it. There is no need to. Also, Vini helps me a lot daily because he arrived before me. In Brazil, people try to compare us but this never happens between us. We are friends, helping each other and doing everything possible in order for the other to succeed."
How is your relationship with Zidane?
"I knew him before because when I came to get to know the club last year, he came back. When I met him, I was shaking. From the start, he always treated me well and he has taught me a lot. At the start of the season when I was injured, I was feeling low, almost depressed. But he came every day to the medical department and spoke with me to encourage me. This was very important to have my head in its place and to motivate me in my recovery. He gave me a lot of confidence and I came back even stronger."
Is there a player that you use as an example for inspiration?
"Casemiro without a doubt. To see him working as hard as he does, to have achieved what he has in his career, he is an example to follow. I didn't know him before and the truth is that he is a leader. He is very important because I think that Casemiro has helped to change the image that Brazilian footballers are lazy. He is always saying: 'Let's go to the gym,' and 'let's go and recover in the ice', 'let's go train.' He is a big inspiration."
It's impossible to speak with you and not mention Neymar. You both came from Santos' cantera and will most likely meet in the Champions League on 26 November.
"I have never played against Neymar and it doesn't really appeal to me to play against him. I hope he doesn't play (laughs). He is an extraordinary player, it will be excellent to see him in action. I home my teammates do a good job defending and trying to stop him."
Do you feel adapted to life at Real Madrid?
"Almost 100%. The city is incredible, it is the best club in the world. The adaptation there was very simple."
You are very young... would you accept doing what Casemiro did? He went on loan to gain more experience.
"My idea is not to leave on loan. My idea is to stay and fight for my place. I am at the biggest club in the world. Why would I want to leave here?"