Jovic: "The Real Madrid fans were very hard on me"
The Serbia striker said during an interview that the whole side celebrated his first goal "like a communal achievement" after he found the net against Leganés.
Real Madrid striker Luka Jovic gave an interview with Serbian news outlet Sportski zurnal in which he discussed his struggles since joining the Liga giants from Eintracht Frankfurt for a fee of 60 million euros last summer. The 21-year-old, who arrived in the Spanish capital off the back of a prolific season for the Bundesliga side, has had limited opportunities under Zinedine Zidane and scored his first goal for Madrid in the 5-0 victory over Leganés in week 11 of LaLiga action.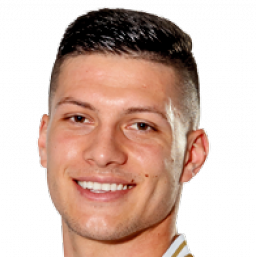 "It hasn't been easy, I have waited a long time for that goal," Jovic said after dedicating the strike to his son, David. "I was under a lot of pressure but I was always aware of my ability and I knew it was just a question of time. I was motivated by the desire to prove to the board of the biggest club in the world that they didn't make a mistake when they brought me here."
Jovic: "It was a huge relief to score that goal"
Jovic also spoke about the unique pressure Real Madrid players are under in the Santiago Bernabéu, one of the most demanding stadiums in the world and a place not noted for an abundance of patience. "It was a huge relief to score that goal, it took a weight off my shoulders. It has been a difficult period for me, for my career. Although I have never doubted my ability and those around me, my family, my teammates and my coach, believe in me the fans were very hard on me and it wasn't nice to read all those articles. I hope that they will start to have more confidence in me. It's a start and I hope my goals will help Madrid in the future to achieve all of the club's targets."
Jovic also revealed that Zinedine Zidane had told him to be calm about getting off the mark, telling the striker that it would "come when the moment arrives" and that the rest of the team celebrated it like a "communal achievement."
"I am very happy for the support I have received. We are a very close group and only one thing matters to us all; winning for Real Madrid."