ELANO, RODRYGO'S MENTOR AT SANTOS
"Rodrygo is the future of Real Madrid"
AS spoke to Elano, who promoted Rodrygo to the senior squad at Santos, about the 18-year-old forward's impressive early impact at the Bernabéu.
One man who has taken a particular interest in Rodrygo Goes' start to life at Real Madrid is Elano, who as interim Santos coach took the decision to promote the young forward to the Brazilian club's senior squad in early 2017.
Having seen Rodrygo mark his second straight Madrid start with a goal in Wednesday's 5-0 win over Leganés, the former Manchester City player sat down with AS to offer his thoughts on the impact that the 18-year-old has had in Spain.
Rodrygo has made a real impression at Madrid. Is he ready to be a regular starter?
I must say, he's playing the type of stuff that is sure to be keeping Madrid and their fans happy. I like the way [Madrid coach Zinedine] Zidane is looking after him, giving him an important role but, at the same time, refusing to rush things and keeping in mind that he's still just a young lad. If things keep on going as they have up to now, he's in a great position to really kick on as a player.
How far do you think Rodrygo can go?
You'll have to wait and see, but those of us who knew him at Santos know that he always measures up and, though he's a shy lad, he's a different proposition altogether when he crosses that white line.
Do you think he can have a decisive role in Madrid's future?
Without doubt. He's the future of Real Madrid. Right now it's too soon to be thinking about that, though; he just has to take it step by step. But he's a leader.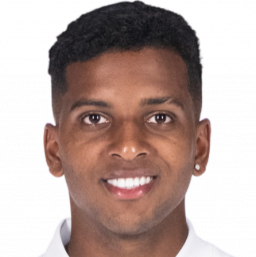 So the 45m-euro fee Madrid paid for him looks like being a bargain...
As long as Real Madrid are happy with him... I think Zidane and his team-mates are all very happy indeed.
What have Rodrygo's family said to you about his time at the Bernabéu so far?
They're really happy to see him doing well, but they know he needs to keep his feet on the ground. Football's very difficult if you don't keep your feet on the ground. He's settled in really well at Madrid, though.
In what ways has Rodrygo changed since you worked with him?
I had followed his progress in the youth set-up for two years. He was a young player with a lot of personality who was ready for the step-up to the seniors. Time has borne out those good initial impressions; he's still showing all the qualities he did then.