Real Madrid fail to find a way around Betis in the Bernabéu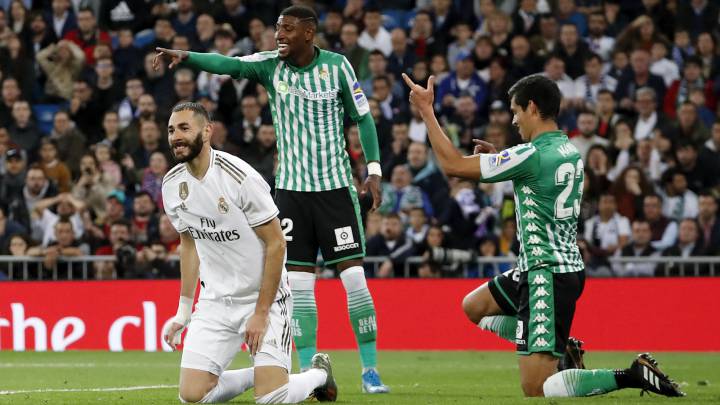 Real Madrid vs Real Betis: live updates
Peep, peep, peep! The match ends 0-0. Real Madrid have now failed to score against Betis at the Bernabéu for three consecutive games. It had been a pretty even first hour, with both sides having almost the same number of chances on goal. But then Madrid piled on the pressure for the last 30. However they could not find a way past Robles and the visitors, who have won the last two meetings at the Bernabéu, will be happy with the result.
Madrid did manage to score early on through Eden Hazard with a well worked individual goal. But VAR ruled that he was offside when receiving the ball from Benzema, and, as you can see below, if was extremely marginal. So the result means that Sevilla, Atlético and Real have all missed their opportunities to knock Barcelona off the top spot this evening after Ernesto Valverde's side's shock defeat to Levante.
With all Madrid's focus on attack, they've left themselves open for the counter attack. Betis break but can't do anything of note.
Carvajal shoots, the keeper spills, Ramos tries to poke it from point blank range. There are legs flying everywhere and Betis have somehow managed to keep it out.
What a chance! Mendy floats a beatiful ball towards Vinicius on the edge of the six yard box but he can only strike it straight at the keeper. He should have scored!
Madrid throwing everything at this now as they crowd around the Betis box.
Jovic on Benzema for the last seven minutes to try to find a winner for Madrid.
Courtois does excellently to save a long range effort from Fekir that was destined for the top corner. There had been massive protests from Madrid for a handball in the Betis box a few moments earlier. But VAR has deliberated that the handball was accidental.
Betis change: Borja Iglesias comes on for Loren.
Vinicius is taken down in the box as he tries to round Sidnei. He appeals for the penalty. But the ref signals for a goal kick, much to the frustration of the home crowd.
Madrid have not scored against Betis in their last two meetings at the Bernabéu. They have 20 minutes to stop that from becoming three in a row. Vinicius is on to help, replacing his compatriot Rodrygo.
What a chance for Mendy!! Kroos plays the through ball to release the French full back down the left. He darts forward leaving the chasing defenders behind but, with only the keeper to beat, he's driven his shot into the side netting. Mendy has impressed tonight.
Chance Madrid! Hazard plays in Rodrygo, who weaves around two defenders before dragging his shot wide. Decent effort from the young Brazilian.
Vinicius is warming up for Madrid.
Mendy creating all sorts of trouble for the Betis defence, as he appears to be taken down in the box. But the ref waves away the claims for a penalty.
With almost 60% of possession, Madrid have had 12 attempts (six on target) to Betis' 11 (also with six on target).
Casemiro has a go from a direct free kick 25 yards out but it's well off target.
Mendy has a go from way, way out. But it sails way, way over. Ambitious from the full back.
Peep! Madrid get the second half underway.
The teams are emerging from the tunnel as the second half is about to get underway.
The Frenchman, who has taken the place of Marcelo, has had a decent showing down the left flank so far tonight.
Peep, peep! Half time. 0-0 with both sides having a fair share of chances. Madrid have unsurprisingly been on top and had a brilliant indivdually worked Hazard goal ruled out for a very marginal offside in the 8th minute. Los Blancos have not scored against Betis in their last two meetings at the Bernabéu, and they are yet to get on the scoreboard tonight.
What a stop from Robles to deny Ramos! Heaven knows what the Madrid captain was doing in that position, but he's played in by the chest of Benzema, and hits a volley from 10 yards out. But the Betis keeper does brilliantly to punt it away.
Casemiro is the first man in the book for late lunging challenge on Fekir, bringing a stop to a Betis counter attack.
Chance Madrid! Carvajal delivers a low cross towards Benzema inside the six-yard area. The Frenchman beats Emerson to the ball but he can't make a clean connection and his effort bobbles just wide of the near post.
Madrid clear a Betis corner but it only goes as far as Guardado, who hits it sweetly first time on the volley. The ball takes a wicked deflection off a Madrid body in the box and could have ended up anywhere but it has gone wide.
Fekir takes a direct free kick but it's blocked by the wall.
Betis have got themselves into this game finally. Fekir is taken down inside Madrid's third and now they have a chance with the free-kick set piece.
Betis threaten again: this time Canales darts down the left and squares a pass to Feddal in the box. But the defender's touch is too heavy, leaving him with a very tight angle for the shot, which is blocked by Ramos.
First chance for Betis, who have been quiet. Fekir hits a first time strike that had Courtois well beaten but just sailed past the far post. That was too close for comfort for Madrid, who have been very much in control of proceedings.
Kroos with a decent effort from a direct free kick 25 yards out. The ball looked bound for the near top corner but just edges over. Robles seemed to have it covered though.
Kroos tries to pick out Hazard with a clever chip towards the edge of the six-yard area, but Moreno sticks out a toe to stop the ball reaching the Belgian striker.
Hazard's goal has been ruled out for offside! It was marginal to say the least. The Belgian did very well to take the ball on the left, beat two men before sticking the ball into the far corner. But the goal won't stand.
Chance Madrid! Carvajal passes the ball forward towards Modric, who plays a clever dummy to release Benzema. The Frenchman hits a lowshot towards the left corner, but Robles gets down to save.
Modric and Rodrygo link up well, with the Brazilian delivering a decent ball in from the right. But it only reaches a Betis head.
Betis with an early attack, as Moreno's shot is blocked inside the box. The visitors showing intent right from the off.
Betis get the game underway!
Two minutes to kick off now.

Betis striker Loren Morón has the same numbe of goals as Karim Benzema this season with seven. He scored the last time he was here at the Bernabéu in May in Betis' 2-0 win.
This will be the second battle between a Madrid and Seville club this evening. Earlier on Sevilla drew 1-1 with Altético, with goals from Franco Vazquez and Alvaro Morata.

Sergio Canales was tipped for great things when he signed for Real Madrid as a 19-year-old in 2010 but for various reasons, including a nasty knee injury which he picked up whilst on loan at Valencia, it never really worked out for him at the Bernabéu. It's been at Betis where Canales has managed to show glimpses of that early promise. He returns to the capital tonight with Betis, who have won in their last two visits. You can check out our interview with him here.
In case you hadn't heard, Barcelona lost 3-1 to Levante earlier, here's what Ernesto Valverde had to say after...
Betis have won on their last two visits to the Bernabéu, that 2-0 victory last May and again by a single goal in September 2017. Madrid have not been finding the net with ease this season, the midweek stroll against Leganés notwithstanding, and face a Betis side who have knocked in more than Atlético so far this season. That said, no side have conceded more than Rubi's side, so Karim Benzema will be rubbing his hands together.
Madrid arriving a little earlier. Vinicius will be happy to be back in squad after his ommission mid-week against Levante.
The last time these two met was at the Bernabéu was at the end of last season, where Betis won 2-0 thanks to goals by Loren and Jese Rodriguez. However, they can expect a very different Madrid team to the flat and unmotivated side they met in May with nothing to play for. This time Zidane's men have the extra motivation of the chance to go top of the table with a win tonight.
Madrid starting XI: Courtois, Carvajal, Ramos, Varane, Mendy, Casemiro, Modric, Kroos, Hazard, Benzema, Rodrygo

With Bale and James unavailable, young man of the moment, Rodrygo, looks set to for his third consecutive start for Los Blancos. He netted his debut Bernabéu goal against Levante the other night and will be keen to get on the scoresheet again.
Following Barcelona's shock defeat to Levante earlier, Madrid have a chance to move to the top of the table with a win againt Betis this evening. And after beating Levante 5-0 during the week, Zidane's men will be confident they can secure all three points tonight.
Hello and welcome to our live coverage of Real Madrid vs Real Betis at the Santiago Bernabéu. Things are set to get underway at 21:00 (CET) so in the meantime you can follow the build up with us here. Team news to come shortly.
.