Real Madrid player ratings after 0-0 draw with Betis
Thibaut Courtois had a great game in goal to secure another clean sheet, while Eden Hazard is clearly improving with every match. Benzema was Madrid's best peformer as usual.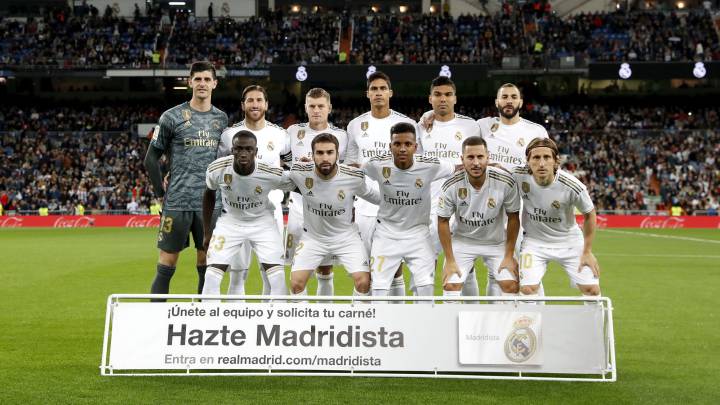 Courtois: Had a great game and made some noteworthy saves, denying a decent effort from Loren in first half and saving a Fekir strike late in the second half that was destined for the top corner.
Carvajal: Generally quiet. He got forward a lot along his right wing and committed only one foul in the 33rd minute. Came close to scoring in extra time of the first half.
Varane: Not his best game. Defensively he was off colour and an error of his almost led to a Loren goal. But Courtois saved his team mate from embarrassment.
Ramos: A typical captain's performance. When the team needs it most, he always steps up a gear and puts in the effort in both defence and attack. Almost scored in the first half after taking a chested pass from Benzema, but was denied by Robles.
Mendy: Had a lot involvement going forward but was indecisive in the final meters of the attack. He created one of the best chances of the game in extra time for Vinicius with a beautifully floated pass towards the six yard area. But the Brazilian couldn't finish.
Casemiro: Quiet game. He didn't make much contribution to Madrid's attack but was well placed as always in defence.
---
Read also: Angry Real feel penalty calls have cost them seven points
---
Kroos: Went from more to less. Gave a masterclass in the first half but made some mistakes in the second half.
Modric: This was only his third start for Madrid this season. Like Kroos, he started well but then faded. His match fitness may still be an issue after his injury problems. His best contribution was a slipped pass to Benzema, who almost scored.
Rodrygo: Everything the Brazilian does on the field makes a lot of sense. He works well with his teammates, but on the right wing he was a little ineffective close to goal.
Benzema: Madrid's best performer, as usual. He made several chances for his team mates asidefrom having several chances of his own.
Hazard: Linked up well with Benzema throughout. He managed to score a wonderful individual goal in the 8th minute which VAR ruled out as he was offside when receiving the ball from Benzema. Decent all-round performance on the left wing from the Belgian, who is clearly getting better with each passing game.
Vinicius: He gave a lot to Madrid when he came on for the last 20 minutes, coming close to scoring twice.
Jovic: Had little involvement during his seven-minute cameo. With Zidane bringing him on so late in a match Madrid have been winning, it is clear that he French coach doesn't trust him yet to make a difference.