Why Ramos and Modric are buying €5,000 bronze ants
Real Madrid captain Sergio Ramos has bought several of the quirky art pieces, prompting friend and team mate Luka Modric to also invest in one of the 60cm-long bronze ants.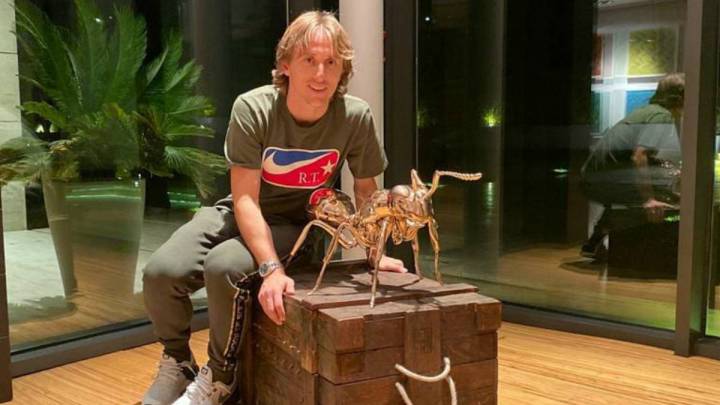 Sergio Ramos' love of modern art is well known, with the Real Madrid captain the proud owner of an extensive collection of pieces from the likes of Spanish artists Manolo Valdes and Juan Genoves, British street artist Banksy and U.S. artist Phil Frost.
Back in February, the 33-year-old revealed one of his latest art obsessions on Spanish TV programme El Hormiguero: 60 centimetre-long bronze ant statues that retail at 5,000 euros a piece.
Ramos explained that he had fallen in love with the pieces on a recent trip to London and bought one for himself, one for his wife Pilar Rubio and one for his kids. Since then, the Madrid player has bought several more of the quirky statues.
And it seems that Ramos could start a trend amongst his Real Madrid team mates, with Luka Modric the latest to buy one of the 5,000-euro bronze ants.
In a recent photo posted on Instagram, the Croatian midfielder is seen posing happily alongside his new piece of art at his Madrid home – joining his good friend Ramos in supporting the latest art craze.
Modric and Ramos part of wider art project
The bronze ants are the work of an artist known as Ishiwüt, who has made a 1,000 pieces as part of a project known as 'Desert Operation'.
"According to the participation the project will grow until Ishiwut convene worldwide in an event where all the owners will contribute their pieces to complete the work – an event that will be communicated to each owner the place and time and to which they have to attend with their pieces," so reads the website.
Back in February on Spain's El Hormgiuero programme, Ramos also presented an Ishiwüt ant to host and family friend Pablo Motos, and confirmed he intended to attend the event for the pieces' owners.
And now it looks like Modric will also be joining him, unless, of course, the artist decides to hold the event on an important match-day.