BARÇA 0-0 SLAVIA PRAGUE | PIQUÉ
Piqué asks for patience over Barcelona performances
The Barça defender admitted his team have been below par after a draw in the Champions League against Slavia Prague.
Gerard Piqué spoke at the end of Barcelona's 0-0 draw against Slavia in the Champions League.
Some of the fans were whistling at the end of the game ...
We tried to play the game that suited us. We had chances but we got a bit stuck going forward. In the second half we controlled the game more but the ball just didn't want to go in. I'll take the good bits away from the game.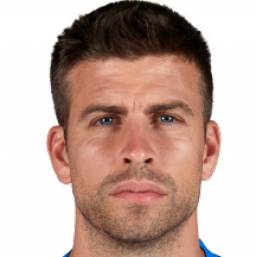 Are you missing a bit of a spark?
We haven't got the results in the last few matches and at Barça when that happens the pressure goes right up, and you need to do more. The feeling after the game isn't all bad, because they didn't create that much.
You talked to Valverde for a long time at the end of the game.
We didn't expect them to play with such a high line and we had to set the team up to both attack and defend.
Do you think there's excessive criticism?
Everyone has their opinion. I've been at this club for a long time and when folk expect things to be better and they aren't you get this type of criticism. The players try to fix these situations as soon as possible but we have to have cool heads - but I think we are in a good position: we are leading both LaLiga and the Champions League [group]. We are not playing at the level we expect. The results are not bad, but they could be better. We have to improve.
Can the team win the Champions League playing like this?
Well, it is difficult to say right now but sometimes at this club we have had spells where we have not played so well and then we have won titles. With Luis Enrique it seemed that it wasn't working well for us for the first six months and we won the treble. I would ask for a little patience, I know that people want more but the team is trying hard to find solutions. Not so much with the results, but in the way we play.