Otamendi's impressive tattoo collection: 'Breaking Bad, 'Peaky Blinders'....
The Manchester City and Argentina star Otamendi is clearly a favourite of a good series with some of the biggest hits making it to the player's back.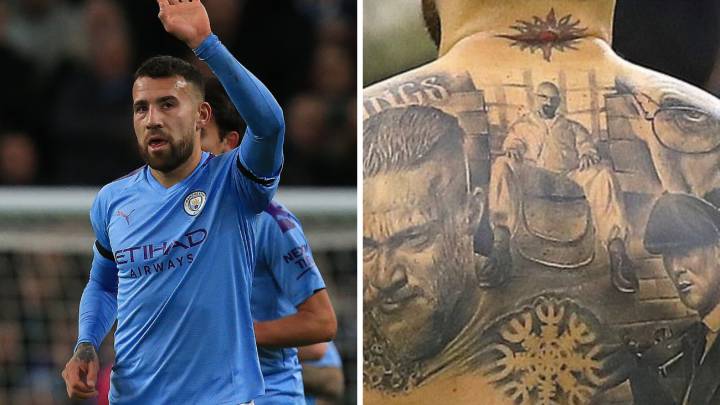 At the end of the Champions League clash between Atalanta and Manchester City, Nicolás Otamendi removed his playing shirt at the end of the game to reveal an impressive set of tattoos on the upper half of his torso.
A lion and bear dominate the front of the Argentine defender's chest with the tattoos on his back creating much fuss on social media.
Nicolas Otamendi showed off his impressive tattoos after the draw with Atalanta, featuring characters from his favourite TV shows Breaking Bad, Peaky Blinders and the Vikings inked on his back.

[@MailSport] pic.twitter.com/11LgU0p6on

— Man City Xtra (@City_Xtra) November 7, 2019
With much of the player's body covered with religious symbols, family related illustrations it's the top part of the player's back which created interest with 'Breaking Bad', 'Peaky Blinders' and 'Vikings', three of the biggest series in recent times being showcased in ink.
Walter White, the main character from 'Breaking Bad' played by actor Bryan Cranston is flanked by Thomas Shelby from Peaky Blinders (a ole played by Cillian Murphy). Ragnar Lothbrok (Travis Fimmel) from 'Vikings' completes the series trilogy on the City player's back.