REAL MADRID
PSG in panic mode over Mbappé's Real Madrid dreams
L'Equipe reveal that PSG are ready to renew Mbappé "at all costs" as the French striker dreams of playing under Zinedine Zidane at Real Madrid.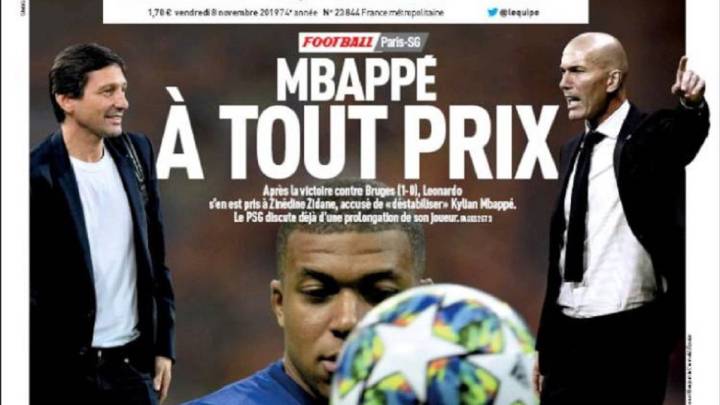 "A Tout Prix" or "At all costs" for those of you who were dozing off during French classes in school. That's the headline L'Equipe lead with on Friday after Leonardo, PSG's sporting director, told Zidane to stop talking about Kylian Mbappé.
"PSG have started conversations with Mbappé over a renewal but they have not yet made an offer," it says. The article confirm what France Football said just a number of days ago about the Ligue 1 side's concerns over Real Madrid and Mbappé's mutual interest to work together.
Zidane is the latest to speak about the mini-furore created over Mbappé's dreams to play with Real Madrid. "Mbappé always said that his wish was to play at Real Madrid," said Zidane at his press conference on Friday ahead of the Eibar game.
That came after Leonardo tried to silence talk of Mbappé's future: "Honestly, it annoys me a bit," he told RMC Sport. "It's not the moment to talk about dreams and all that. Enough. Mbappé is very important for us and it's not the moment to unsettle him. He is the best young French player, champions of the world, one of the best in the world. This is not the moment to bother him and unsettle him. It's the moment to stop. He has two and a half years on his contract with us."
Mbappé's contract situation
Mbappé has a contract with PSG until June 2022. AS revealed Real Madrid's strategy recently with the youngster's most recent strategy being to not renew and wait it out. In the final 24 months of a player's contract, the race is on to renew because once it runs down to 12, there is a very real chance of losing the player for nothing. Waiting, obviously, gives Mbappé an advantage in talks. Alternatively, if it looks like he won't renew, PSG might have to sell for cheaper than they might like just as we saw with Chelsea's Eden Hazard.
If Mbappé does renew before the summer, Madrid will have the possibility to buy him. He made it clear that he would be open to a new challenge when he said "maybe I'll be happy here or in a new protect." PSG felt compelled to release a statement that he wasn't leaving then and won't be happy that it has kicked off again. Now, they are willing to renew him "at all costs" as panic metre rises over Real Madrid interest.