Real Madrid's Rodrygo: "If I can, I'll stay here for good"
Speaking to AS on Brazil international duty, Rodrygo Goes said he's loving life at Real Madrid. "It couldn't have gone better," he declared.
Having seen his career take off spectacularly since earning his opportunity under Real Madrid coach Zinedine Zidane, Rodrygo Goes is riding high.
From the moment he scored his first Madrid goal just seconds after coming on for his debut against Osasuna in September, the 18-year-old forward has gone from strength to strength. After adding another goal against Leganés, he proved he's not just one for the future last Wednesday, netting a perfect hat-trick - and supplying an assist - in the Champions League thumping of Galatasaray. It was a display that confirmed him as a footballer capable of performing at the top level in the here and now. What is the secret to his flying start to his career at Madrid - and his ability to take life at the Bernabéu so comfortably in his stride?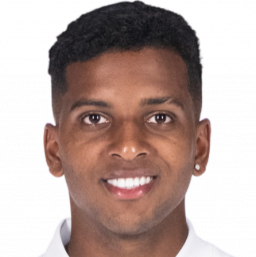 "I love Madrid! The climate, the way of life..."
In an informal chat with AS on the way to Abu Dhabi, where he is in contention to make his Brazil debut against either Argentina or South Korea on Friday and Tuesday, respectively, Rodrygo has a smile on his face as he explains the role that off-field factors have played in his impressive early impact. "I'm really happy with the way I've started at Real Madrid," he says. "It couldn't have gone better. Everything has gone really well. Things have moved even quicker than I expected, and hopefully I can continue in this vein. I haven't really had much adapting to do, because the Brazilians who were already here have given me all the support you need when you go to another country. And Madrid... I love Madrid! The climate, the way of life... it reminds me a bit of São Paulo. If I can, I'll stay here for good."
Accompanied by club-mates Casemiro and Éder Militão, Rodrygo has joined up with the senior Brazil squad for the first time in his career. Having never hidden his admiration for the talented former Santos player, Seleção coach Tite is eager to work with him. "When you see him play, he looks like an experienced player of 25 or 26 years of age," Tite said of Rodrygo last year. "The maturity and calm he has is incredible; the way he reads the game, you'd think he was a veteran."
Rodrygo in good position to get Brazil debut
Rodrygo looks well placed to be handed his Brazil bow in the UAE. While the availability of Tite's favoured forward line meant there were limited opportunities for Vinicius Júnior when he was called up for the first time in September (for the friendlies against Colombia and Peru), on this occasion the circumstances could see Rodrygo pressed into an unexpectedly central role for a player of his age: the Brazilians are without Neymar (injury), Everton Cebolinha (who has stayed in Brazil as his club, Gremio, face the run-in to the Série A season), and David Neres, who picked up an issue in Ajax's Champions League draw with Chelsea last week.
Brazil's forward options against Argentina therefore come down to Gabriel Jesús, Roberto Firmino, Richarlison and Rodrygo. The pressure doesn't bother the youngster, though. "I'm really excited to be here," he said. "I'm going to work hard to get an opportunity and hopefully the gaffer decides to play me. I'm raring to go."