Karim Benzema vs. French FA wrangle intensifies
The president of the French FA has closed the door to a return for the striker with Benzema requesting that he be allowed play "in one of the countries where I'm eligible".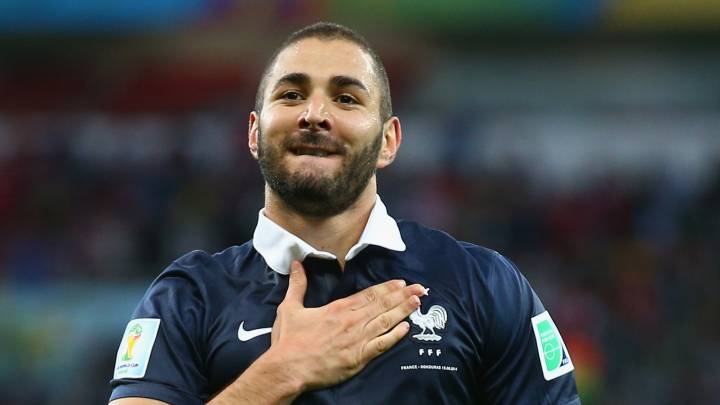 There seems to be no solution to resolve the breakdown in relationship between striker Karim Benzema and president of the FFF (French Football Federation) Noël Le Graët with Saturday witnessing both men adding fuel to the fire on hostilities.
With many France fans demanding that in-form player be allowed a return to the national team, Le Graët commented on Radio Montecarlo pouring cold water on any return stating: "Benzema is a fine player and I've never questioned his ability but his time with France is over". Soon after Benzema took to his Twitter account and launched a counter: "Noel, I thought you were not planning on interfering with the decisions of the coach! Know that it is me and I alone that would put an end to my international career. If you think I'm finished, let me play for one of the countries for which I'm eligible and we'll see".
Noël je croyais que vous n'interfériez pas dans les décisions du sélectionneur!Sachez que c'est moi et moi seul qui mettrait un terme à ma carrière internationale.
Si vous pensez que je suis terminé, laissez moi jouer pour un des pays pour lequel je suis éligible et nous verrons.

— Karim Benzema (@Benzema) November 16, 2019
Sex-tape victim
Benzema's omission from France squad is a Deschamps' decision owing to the forward's involvement in a sex-tape scandal involving Mathieu Valbuena in 2017. Benzema is accused of blackmailing his France teammate over the video. One of the extortionists that has already confessed to being involved in the crime, Mustapha Zouaoui, recently told the newspaper L'Equipe that Benzema is innocent and is just a collateral victim of the scam.
Le Graët and the player have aired their differences of opinion consistently in public with Benzama replying to the president after the 2018 World Cup win: "Mister Le Graet, I plead that you forget about me and leave me in peace please. France have won the World Cup and that's what is important, nothing else, thanks".
The start to the 2019-20 season has seen Benzema find a rich vein of form hence the clamour in his native France for a recall to "Les Bleus". Recent surveys in L'Equipe (73%) and France Football (68%) show widespread support for a place in the France side for the forward.
Benzema is top scorer in LaLiga having found the net 9 times Real Madrid this season to date, a tally as impressive or better than the other France forwards with Mbappé also on nine goals, Griezmann (four) and Giroud just hitting the net once for Chelsea. Madrid coach Zidane also added his weight to the date stating recently: "He's always wanted to play for the French side," Zidane told a news conference. "To be honest, I don't know exactly what's going on. "But from a football point of view, he's the best. I think he should definitely have a place in the French national team. It's beyond my role here, but he should definitely be called up."
His coments provoked a reply from the French boss Deschamps who countered claiming: "I have no problem with him saying that. He is the coach of Real Madrid, so his role is to talk like that," stated the coach, who shared World Cup glory with Zidane in 1998 when the two were still players.