Ibrahimovic's agent Raiola meets with AC Milan
Sky Sports Italia reports that Mina Raiola has met with AC Milan representatives to discuss the possibilty of the ex-LA Galaxy star's return to the San Siro.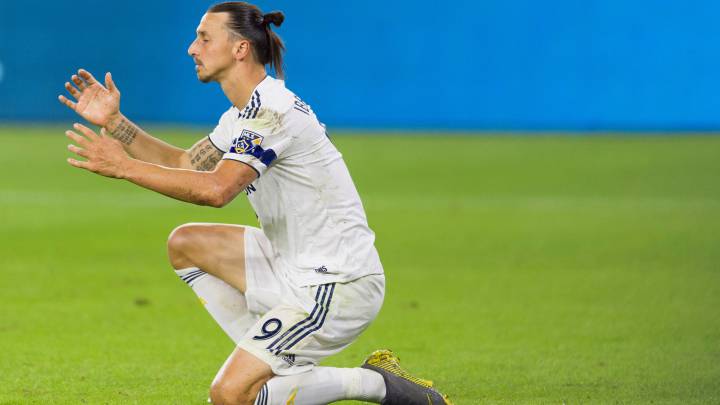 The battle for Zlatan Ibrahimovic is heating up in Italy where a number of clubs are vying for his signature, including his former team AC Milan.
Having confirmed that his spell at LA Galaxy would come to end following the close of the MLS season, the Swedish striker has made clear his intentions to return to Europe, with Italy understood to be his preferred destination.
And according to Sky Sports Italia, Ibrahimovic's agent Mino Raiola has met with AC Milan representatives to discuss the 38-year-old's return to the San Siro, where he spent two seasons playing for the Rossoneri between 2010 and 2012. The ex-Barcelona striker also had stints at Milan's city rivals Inter and Juventus during his years in Serie A.
However, one obstacle to the operation could be Milan's precarious financial position. After being handed a ban from European football for one season by UEFA for breaching the governing body's financial fair play rules, the club may find it difficult to the guarantee Ibra the salary he desires to sign an 18-month deal.
Napoli, Bologna and AC Milan all battling for Ibrahimovic
Before the well-publicised stand-off between the club and its own players, Napoli had reportedly offered Ibrahimovic 10 million euros over the duration of an 18-month contract, while Bologna has offered him 8 million euros over the same period.
The former Sweden international has a warm relationship with Napoli coach Carlo Ancelotti and has already spoken of a desire to become an idol in the vein of Maradona at the Estadio San Paolo.
However, his friendship with Sinisa Mihajlovic could open the door to a move to Bologna, while his previous experience with Milan would also make a return to San Siro a viable possibility should the club find a way around the financial issue.