REAL MADRID
Zidane's dilemma of making a starting XI without Bale
The Real Madrid manager has three options including Vinicius, Rodrygo Goes or changing his formation to a 4-4-2 is Bale can't go on Saturday.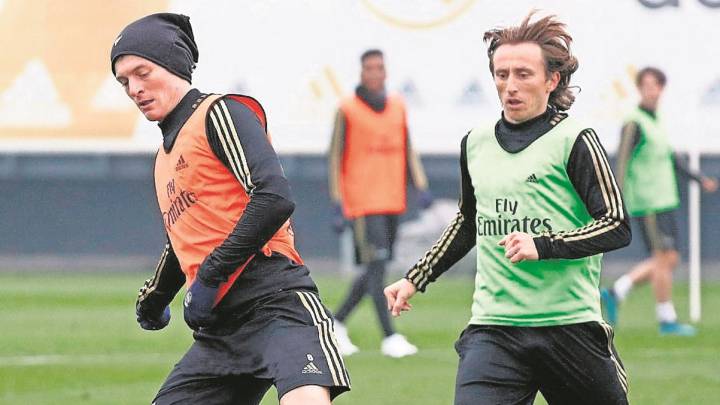 The right side of Zidane's attack has been one of the most worrying areas of the field for Real Madrid this season. Due to the overpopulation on the wing to start and also Bale's unavailability, there has been no consistency on the right. The Welshman's situation is the root of the problem because despite his tumultuous summer, he started the season as a starter, came back from international duty injured and has not been available since. Zidane had to improvise and Rodrygo emerged as a contender for the role long term. Lucas Vazquez's inopportune injury (broken finger) after he started against Eibar throws another spanner in the works. He played Vazquez as a counter to the high-pressing Eibar and Real Sociedad do the same so he will need a fix for that on Saturday.
If Bale does continue either out of the squad or on the bench, one of the options is Vinicius. It is not his preferred position on the right and Rodrygo has overtaken him. The latter just returned from Brazil duty and might not be ready to start. Vinicius has also had the opportunity to impress Zidane for the last two weeks with the bulk of his teammates away on international duty.
A third path is the return of the 4-4-2 with Casemiro and Valverde in the middle and Modric and Kroos on the left and right in an effort to stem Real Sociedad's press with Hazard and Benzema as the front two. This also provides another problem, however, as Zidane will have to decide who sits in the middle of the field as the holder. That midfield four have not played together yet.
Real Madrid's possible solutions if Bale doesn't play

Option A | With Vinicius
Vinicius doesn't feel comfortable on the right, but it's the only chance he has to start. Hazard will start on the left and Rodrygo is just back from Brazil duty.
Option B | With Rodrygo
The Brazilian has been a starter in this position in four of the last five games for Real Madrid but is just back from international duty in Abu Dhabi.
Option C | Change of tactic
Zidane's 4-3-3 is not set in stone and he would be willing to change. He toyed with different formations during the summer and he also played with a 4-4-2 against Villarreal and Mallorca but neither of those results were optimal - a draw and a loss.