REAL MADRID 3-1 REAL SOCIEDAD | ZIDANE
Zidane: "Bale needs the fans - we all do"
Zidane was asked whether he understood why Bale was whistled: "It's not whether I understand it or not, we all need our fans and so does Gareth".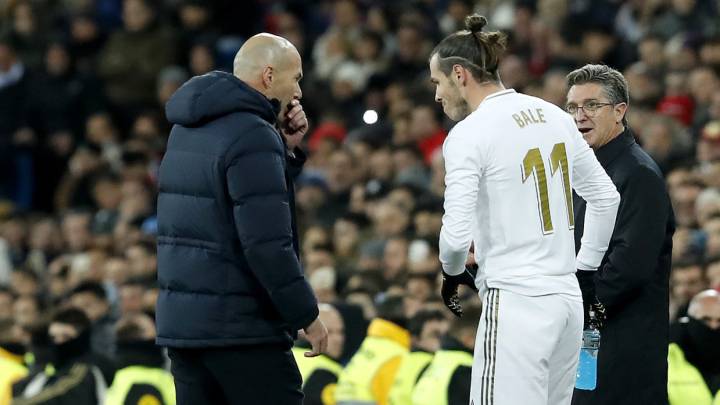 Moments after the final whistle went after last night's game against Real Sociedad, Zinedine Zidane spoke in the flash zone to give his thoughts on Real Madrid's 3-1 win. The coach highlighted Luka Modric's performance - without doubt his best of the season so far. As for sections of the home crowd whistling Gareth Bale, he said: "Gareth needs the fans".
Most pleasing part of the night: "Everything but mainly the attitude the team showed. When you get off to a start like that... We didn't have a great start - not because of the goal but how we played in general. We had difficulties for the first 30 minutes but we didn't give up and ended putting in a decent performance against a very good side".
Madrid lacked concentration at the start
Why did Madrid struggle at the start of the game? "Real Sociedad are a good team. What matters is being able to get back into the game and doing things to change the situation. And that's what we did. Calmly and without getting overanxious we came away with all three points, which come in very handy".
What was the turning point? "It all changed for us at the end of the first half. The gamechanger was scoring. That radically changed everything. We started the second half well and got another goal quickly. We didn't have many chances on goal but we had the game under control which is very important when you are ahead, defending well and so on… We knew that with the quality we have got, we could score at any moment".
Modric: "We know what Luka's about, he's always going to be an important player for us and he showed that tonight. I'm happy for him because he doesn't score that many goals from midfield, but when we are feeling brave enough, we can score goals like that. And the move itself was very good - with Bale's cross, Benzema laying the ball off for Luka to shoot. I'm delighted for his goal and what his contribution to the game - and that goes for the rest of the team too. The team did things properly".
Zidane on the Bernabéu whistling Gareth Bale
Do you understand the whistles which Bale was subjected to? "No. It's not whether I understand it or not, we all need our fans and so does Gareth. We all do. But these things can happen. We love our fans, after we scored, they were right behind us".
Will Bale start against PSG? "We'll see".